What to Eat for Lunch While on a Diet
Lunch is often a tricky meal when you're trying to eat healthier since you're probably not at home to be able to prepare something fresh.
You might be lucky enough to find a place near work that offers healthy options, but if not, then get your Tupperware ready, as packing your lunch will be your diet savior!
That's right, packed lunches aren't just for kids – taking your lunch to work is estimated to save you around $3,000 a year (!), and preparing your own midday meal helps you to avoid the dieting disasters you might face on the menu in the cafeteria or at the local restaurants near your workplace.
So, as long as you're lucky enough to have a microwave in your staff kitchen, then you should be able to reheat pre-prepared dishes.
1. Spicy Asian Salad
This tasty and unique Asian salad will only take you a few minutes to make, so it's perfect for a quick lunch recipe!
In a large plastic bag, simply add shredded carrots, shredded salad leaves, black sesame seeds, one sliced jalapeno, 3oz cooked chicken (leftovers work well for this), lime juice, a tablespoon of soy sauce, a dash of sriracha, and a light drizzle of liquid stevia for sweetness.
2. Tuna Melt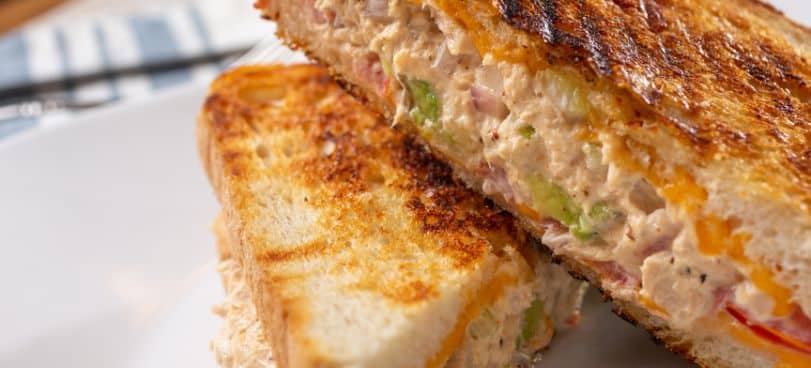 A tuna melt feels indulgent, but with fiber, protein, and healthy fats, it's perfect for filling you up at lunchtime!
Toast two slices of whole-grain bread, then spread a small tin of tuna across the two and top with a little finely grated cheese and a sprinkling of pepper or your favorite herbs, then grill it until the cheese is melted.
And, since ketchup contains a lot of sugar, a dollop of homemade tomato salsa is the perfect addition to spice up your melt a little – just mix tomatoes, cilantro, chili, and lime.
3. Lentil And Egg Salad
This lentil and egg salad combination will pack a major protein-fueled punch into your lunch! Just toss 1/2 cup of cooked lentils, 1/2 cup of salad, and slices of 1/4 of an avocado. Top with sliced tomato and a chopped hard-boiled egg.
4. Goat's Cheese, Tomato, And Sultana Salad
With its mix of textures and flavors, this salad should satisfy all your taste buds at once!
Take around a third of a bag of salad leaves and add halved cherry tomatoes, a handful of sunflower seeds, a handful of sultanas, some chopped goat's cheese, a drizzle of olive oil, and a drizzle of balsamic vinegar.
5. Garbanzo Mix
Packed full of fiber and very affordable, garbanzo beans make a great lunch.
To make a tasty dish, cook chopped onion and garlic in a little olive oil, then add chopped tomato to the pan.
Break an egg into the mix and scramble a little, then add a 14 oz jar of drained and rinsed garbanzo beans and mix everything together, stirring to cook the mixture through.
This will make enough for two servings, so you could have it for dinner one night and then for lunch the next day, or it could be your lunch twice during the week, all for ten minutes of prep!
6. Hummus Veggie Wrap
A wrap makes the perfect portable lunch; cover a whole grain tortilla wrap with two tablespoons of roasted red pepper hummus, a handful of shredded carrots, a handful of baby spinach, and edamame soybeans, avocado slices, pepper, and a splash of lemon juice.
Wrap, then cut into slices.
7. Tabbouleh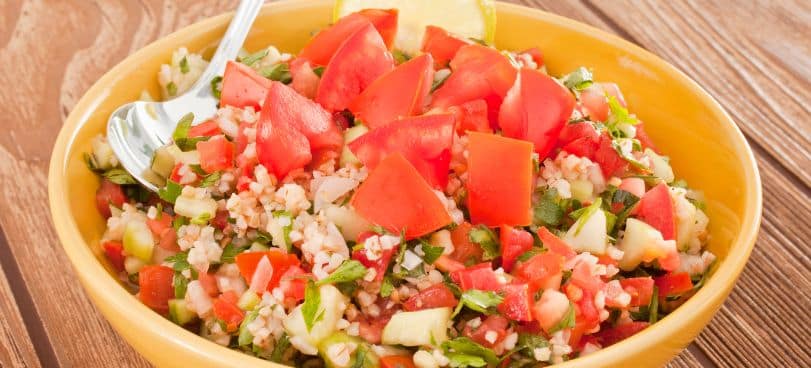 Cook a cup of whole-grain couscous and add 1/2 a cup of halved grape tomatoes, 1/2 a cup of diced cucumbers, lemon zest, a dash of olive oil, and a handful of chopped mint leaves, a sprinkle of parsley, salt, and pepper.
Cook some onion, then add it to the other ingredients, mix and refrigerate for a few hours and serve cold
8. Topped Baked Potato
Potatoes are full of vitamin C and contain a lot of fiber, especially if you eat the skin too, so a baked potato is way better than mash and still a super-comforting food for winter.
To avoid a crispy charred potato, microwave a medium-sized potato for about 4 minutes, then turn it over and cook it for a further 2 minutes, or more if necessary.
Then, rather than smothering it in butter, make use of last night's leftovers to add flavor to your potato.
Whether it's a three-bean chili for more fiber or some roasted veggies, or even just some protein-packed tuna mixed with a little Greek yogurt and chives, the humble baked potato makes a great base for a filling lunch to see you through until dinnertime!
9. Pesto Chicken Roll
Simply toss diced chicken breast with homemade pesto, diced mozzarella, and some veggies of your choice.
Sliced snap peas, bell peppers, or cherry tomatoes are all good ideas. Place the mix onto a whole-grain roll or eat it with whole-grain bread for a tasty but simple lunch.
10. Mini Frittatas
Get a meatless protein boost to help you power through the rest of your workday by packing a few of these mini frittatas for lunch.
Whisk ten large eggs with a pinch of salt and pepper. Add a thinly sliced leek and sauté the eggs until slightly browned, and then pour the mixture into a non-stick muffin tin.
Add a cup of chopped spinach, spreading it between the mini frittatas, and then sprinkle 1/2 a cup of mozzarella and a tablespoon of oregano. Heat for about 10 minutes at 375°F.
With these great lunch ideas, there's no excuse not to bring your own lunch to work! Let us know what you eat for lunch!