12 Healthy Pack-Ahead Lunches You'll Actually Want to Eat
Do a quick search for healthy lunches, and you'll find millions of results telling you to pack kale chips, toasted chickpeas, cans of tuna, or celery for lunch.
Those are definitely healthy options, but they're not exactly considered "delicious" in everyone's book.
So, what can you pack for lunch if you're trying to lose weight but still want to have a "normal" lunch that doesn't sacrifice flavor?
Here are 12 simple, healthy pack-ahead lunches that you'll actually want to eat at work!
✨

12 Healthy Pack-Ahead Lunches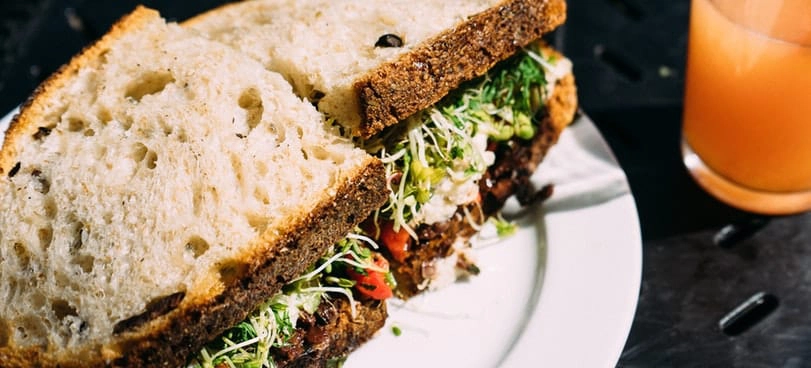 When you're working hard to lose weight, taking your lunch to work is an easy way to save calories and money! Not sure where to start?
Here are 12 easy, yummy lunch ideas to jumpstart your meal prep!
1. Turkey sandwich + baby carrots + ranch + grapes
Turkey is lean and high in protein, making it the perfect meat for weight loss. Toss a couple of slices of turkey on 2 slices of whole-wheat bread, spread on some mustard (and a touch of mayo, if you like), and add plenty of lettuce and tomatoes to give the sandwich volume.
Serve with baby carrots and ranch, plus grapes for dessert.
2. Healthy tuna salad + 1 serving of whole-wheat crackers + orange + square of dark chocolate
Tuna salad is a classic, but give it a healthy twist to mix things up. Combine one can of water-packed tuna (drained) with a couple of spoonfuls of plain, fat-free Greek yogurt, 1 tsp of mustard, and ¼ cup of shredded carrots.
Using yogurt instead of mayo decreases fat and increases protein! Serve with whole-wheat crackers, plus an orange and a small square of dark chocolate (>70% dark).
3. Avocado chicken wrap + apple slices + fat-free flavored yogurt
Spread a whole-wheat tortilla with ¼ of an avocado (or about 1-2 tbsp of guacamole), lettuce, tomato, and a little sliced onion.
Add some skinless chicken breast (rotisserie, grilled, or baked – whatever you have!) and roll. Serve with a sliced apple and a 6oz fat-free yogurt for dessert.
If you're reducing added sugars, opt for plain yogurt with frozen berries and/or a drizzle of honey instead.
4. Autumn spinach salad + rice cakes + light laughing cow cheese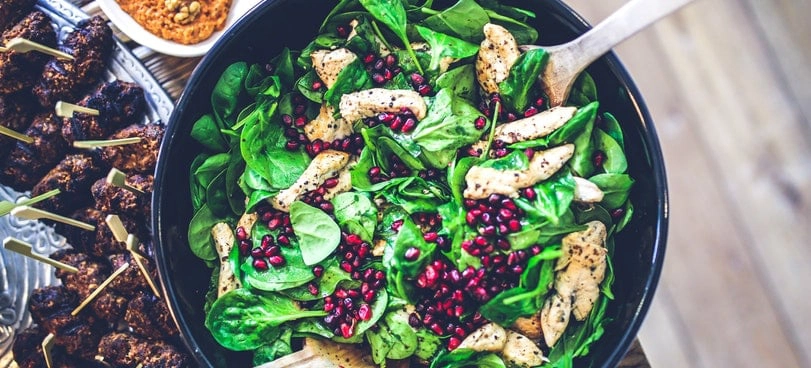 As temperatures start to drop, make a seasonal spinach salad with baby spinach, sliced apple, ¼ cup of toasted pecans, and a sprinkle of dried cranberries, topped with honey-Dijon vinaigrette.
To round out your meal, serve with 2 plain rice cakes and a wedge of light Laughing Cow cheese.
5. Adult pizza lunchable + orange + 100-calorie snack pack (or 14 almonds)
Make yourself an adult version of the childhood favorite: a pizza lunchable.
Pack whole-wheat English muffin + ¼ tomato sauce + ¼ low-fat mozzarella cheese for the healthy pizzas, plus an orange and a 100-calorie snack to complete your lunchable. If you don't like, or don't have, any 100-calorie snack packs, sub it out for 14 almonds to give your meal a boost of protein.
The pizzas are best if you can microwave them for about 30 seconds, but they're perfectly edible cold too!
6. Turkey roll-ups + cucumber + ranch + blueberries
Give the traditional turkey sandwich a makeover and make some turkey roll-ups instead! You can use a whole wheat tortilla or lower-calorie wraps like Flatout bread.
Spread the tortilla with a little bit of mayo, mustard, or ranch dressing, and then add a layer of lettuce, thinly-sliced tomatoes, and low-sodium deli turkey. Roll it up like sushi/pinwheels, then slice it into disks.
This is a quick, fun, and healthy lunch! Serve with sliced cumbers and ranch, with blueberries for dessert.
You can use other meats but favor lean meats like turkey over high-sodium processed meats like salami or bologna. Skip the cheese to avoid extra calories from saturated fat.
7. Hummus and veggie snack plate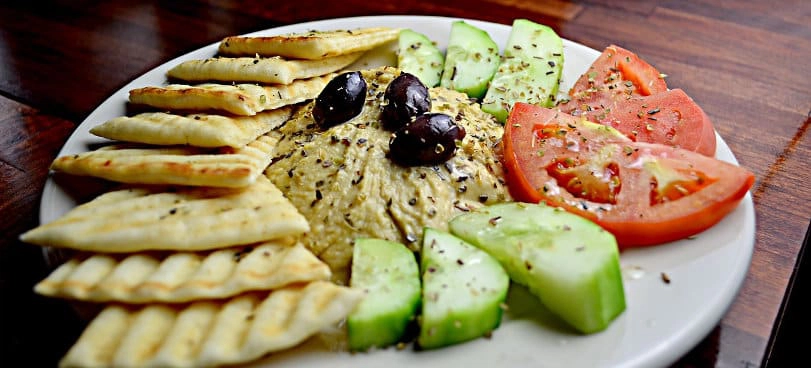 Feeling fancy? Or in a hurry? Throw together a snack plate based on high-protein, high-fiber hummus. Serve ½ cup hummus with 1 serving of whole-grain crackers and 1-2 cups of raw veggies.
Dip the crackers and veggies in the hummus for a fun, crunchy, and quick lunch. Serve with red grapes as dessert.
If you're still feeling hungry – or know that's not enough to keep you full – add a cheese stick or another 1oz serving of cheese. Grapes and cheese are a delicious, filling blend of salty and sweet!
8. Chicken quesadilla + salsa + diced melon
Quesadillas are often considered "junk food" because they can be extremely high in calories and fat, but they can also be part of a healthy diet if you make them at home.
Use one large whole-wheat tortilla, ¼ cup of shredded cheese, and about ½ cup of shredded chicken. Heat the skillet, spray it with cooking spray and throw in the tortilla.
Spread chicken and cheese across half the tortilla and fold over – cook until the cheese is melted, flipping once. Remove from heat, let cool and slice into triangles.
Notice that half a cup of cheese won't make an oozing quesadilla but a mostly-chicken quesadilla with just enough cheese to hold it together. Serve with tomato salsa and diced cantaloupe.
9. Greek quinoa salad + clementine oranges
Quinoa became famous a few years ago because it's a versatile grain with a nutty flavor and naturally-high protein content.
Many people think of this as a hot dish, but quinoa is great cold, too, making it wonderful for pack-ahead lunches!
Cook quinoa as directed. Once cool, toss with about 1 Tbsp olive oil + 1 tbsp red wine or balsamic vinegar + a squeeze of lemon juice, a sprinkle of garlic, and a shake of black pepper.
Mix in chopped cherry tomatoes, kalamata olives, cucumber, red onion, and just a little bit of feta cheese, and then chill overnight (or until lunchtime).
This vegetarian dish doesn't skimp on flavor and gets your veggies and healthy fats into the main dish! Serve with clementines.
10. Bunless veggie burger (or turkey burger) + pumpkin soup + apple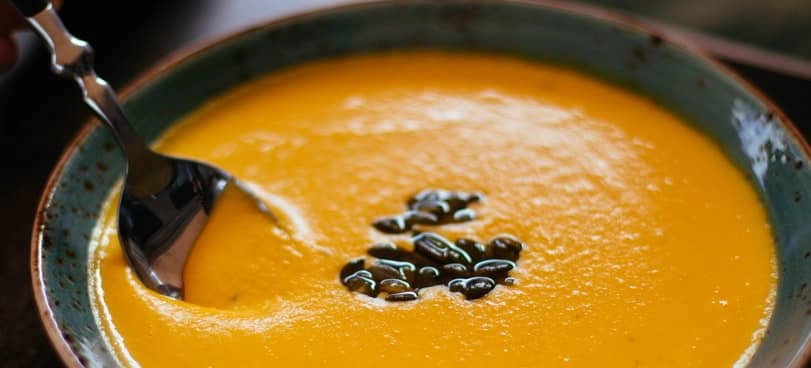 Ready for some autumn flavors? Grill or sauté a veggie burger (or turkey burger) and serve it bunless alongside a cup of pumpkin soup and a crunchy apple.
Pumpkin is an excellent source of vitamin A, potassium, fiber, and antioxidants and is also low in calories. Soups are easy to make at home, or you can purchase ready-to-eat pumpkin/squash soup at the store.
11. Chicken salad on apple slices (or lettuce leaves) + air-popped popcorn + diet hot chocolate
Chicken salad is usually served on white bread and prepared with tons of mayo, so it's not exactly a healthy food.
Thankfully, like most comfort foods, chicken salad can be made over to become a much healthier dish by substituting Greek yogurt for the mayo.
Combine cooked, shredded chicken with plain Greek yogurt, a touch of mayo, chopped celery & red onion, a few chopped pecans, a little parsley, a squeeze of lemon juice, and mustard to taste. Serve on apple slices or in lettuce leaves, with air-popped popcorn as a side. If you're craving something sweet, make a cup of diet hot chocolate for dessert.
12. Lentil soup + ½ cup brown rice + strawberries
Soup again! Did you know that soup is actually a proven weight-loss tool?
In several studies, researchers have found that soup-eating participants lost more weight than those who didn't eat soup.
Lentils are high in fiber and combine with brown rice to form a complete protein, so this meal gives you the fuel you need to stay full until dinner.
Soak and drain lentils (to remove the bitterness), and then boil them in broth with garlic, onion, tomatoes, a bay leaf, and whatever other seasonings you like. Serve with ½ cup of brown rice (or riced cauliflower) and strawberries.
Healthy Pack-Ahead Lunches: DIY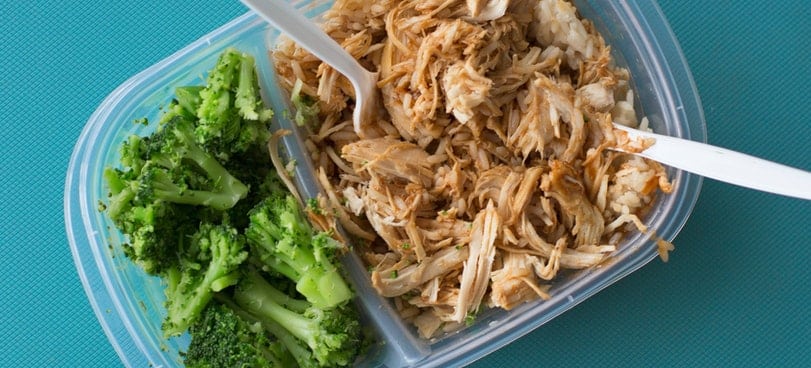 Now that you have a few examples, you're ready to start crafting your own healthy pack-ahead lunches!
You don't need to masterfully craft each eating experience into the perfect balance of macronutrients and satisfying volume, but you should take the time to pack a meal that will fill you up and keep you full.
When designing a healthy pack-ahead lunch, make sure to include:
A healthy, balanced main dish
A fruit- or veggie-based side
Something to satisfy your sweet tooth
Healthy hydration
The right amount of food
1) Main Dish
Choose a main dish containing proteins, complex carbs, and healthy fats. This combination will keep you fueled, energized, and satisfied until your next mealtime.
2) Healthy Side
Complement the balanced main with a fruit or vegetable side. If you don't love the taste of fruits and vegetables, don't be afraid to dress it up with a healthy dip. Steer clear of veggies coated in cheese, creamy sauces, or fruit doused in added sugar.
3) Something Sweet
If you have a sweet tooth, make sure you include a healthy dessert so that you don't spend the whole afternoon craving junk food. Add in an extra fruit or a small, 100-calorie treat to conquer your craving.
4) Water, etc.
Proper hydration is key for weight loss, so make sure that you think about fluids when packing your lunch. Water should be your go-to, but you can also mix it up with unsweetened infusions, decaf/unsweetened tea, and non-fat dairy.
5) Portions Matter
Last but not least, consider volume. If you're like most people, the amount you eat affects how satisfied you feel.
In fact, research has shown that people feel hungrier at their next meal if they perceive that they ate a smaller meal earlier (and vice versa if they recall that they ate a larger meal).
This effect occurs regardless of how many calories they actually consumed. So, volume is an essential factor in deciding what to put in a healthy pack-ahead lunch!
For example, a medium apple and 2 tbsp of peanut butter has more calories than 8 cups of air-popped popcorn. The peanut butter has some great, healthy fats and protein, but it's also more calorically dense, so make sure to balance out your need for nutrients with your need for volume.
If you're able to achieve a good equilibrium, you'll feel more satisfied and less deprived – no matter your calorie goal!
On the flip side, when you're working hard to lose weight, it's important to keep portions in check.
What do you think? What are your favorite pack-ahead lunches? Share your tips and comments with us in the comment section below!