8 Awesome Weight Loss Gadgets
Every day someone comes out with another wearable or gadget to help with weight loss. From tracking watches to magic shirts, weight loss technology is constantly evolving.
Here are our favorite weight loss gadgets of the last couple of years!
1. Moov Now Fitness Tracker
Want to jump on the wearable technology trend but don't like the idea of everyone knowing?
The subtle and effective Moov Now tracker may be your solution! Unlike most trackers that are worn on your wrist or clipped on your clothes, Moov Now goes around your ankle.
This allows the gadget to count your steps more accurately while also keeping your tracking discrete. The tracker works in conjunction with an app on your phone, so it's easy to view your progress anytime.
Finally, if you decide you want to wear the tracker on your wrist, after all, this versatile band gives you that flexibility.
2. Stealth Trainer
Do you yearn for a beautifully sculpted six-pack but can't bear the boredom of seemingly-endless crunches and planks?
This Kickstarter-funded product has you covered! Stealth is a movable table that works with your smartphone to make planking into a video game.
Basically, this product transforms the workout classic into a modern playtime. Simply open the Stealth app, place your phone in its designated space on the board and get in plank position.
From there, you can maneuver through the games by engaging your core to tilt the board. Say goodbye to boring ab workouts and hello to six-pack abs!
3. Smart Rope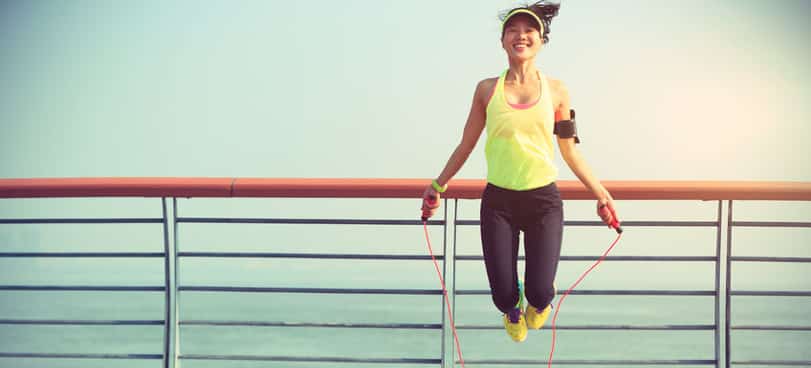 Did you love Skip-It (that plastic, light-up, spinning toy from the 90s) when you were a kid?
If so, check out Tangram Factory's Smart Rope! Jump rope is a fat-torching workout, and this gadget helps make exercise fun again!
The Smart Rope counts your jumps as you go and lights up with LEDs in case you want to jump at night.
4. XBAR (and XBAR FLYT)
Going to the gym is inconvenient and sometimes downright impossible to fit into your schedule.
Thankfully, XBAR fitness invented a gadget that brings the whole gym to you. It's a durable bar that connects to resistance bands, which allows you to work out multiple muscle groups, all with the same piece of equipment.
Better yet, the inventors have recently improved their original product to make it more lightweight and portable.
Whether you work out at home, in the park, or on the go, this accessory puts a whole gym in the palm of your hand.
5. HydraCoach Intelligent Water Bottle
Staying hydrated is critical to weight loss.
Still, it can be hard to remember to drink water – especially when we're busy! So, that's where the HydraCoach water bottle comes in.
This piece of smart tech can calculate your water needs, track your intake and motivate you to drink more. If dehydration is one of your main weight loss struggles, check out this gadget!
The first wave of bottles sold out fast, but there are more in production, and they're expected to become available again online and in stores by the end of the year.
6. Meal Measure
We've heard it a million times…. Portion control is the key to healthy eating.
Still, no matter what they say, it's way easier said than done. If you're always tempted to take an extra-large helping of pasta at dinner, this product is for you!
Meal Measure is a plastic mold that you put on your plate while you're serving up a healthy meal. It guides you to eat in line with the USDA's dietary recommendations (MyPlate) by allowing for two fruits or veggies, one protein, and one starch – all in reasonable portions.
This one is definitely a keeper if you're still struggling to eyeball healthy portions at mealtime.
7. Bluapple
Busy days make for lazy nights, and lazy nights mean microwave popcorn (or a meal replacement shake) sounds much more appealing than prepping all that fresh produce you bought last weekend.
If this scenario plays out too many nights in a row, all too soon, that deliciously fresh produce is rotting in the bottom of your fridge. Bluapple can help solve your dilemma of spoiled produce!
The website claims that this invention can extend the life of your produce by up to 3x by absorbing troublesome ethylene gas.
By removing the problematic gas from your produce drawer, Bluapple slows the ripening and spoilage of your fruits and veggies.
So, next time you stock up on tasty produce, consider throwing a Bluapple in the cart too!
8. Weight Loss Apps
Last but certainly not least, don't forget the power of a great app on your phone!
From food trackers to at-home workouts, these apps will give you the direction and structure you need to get the ball rolling!
Have you heard of any cool weight loss gadgets recently? Or do you have one that works for you? Tell us about them in the comments section below!