How To Avoid Temptation While on A Diet
As much as we try and fill our fridges and our stomachs with healthy food while we're dieting, unhealthy junk food is still lurking out there, ready to sneak up on us in supermarkets, restaurants, and parties.
So, how do you avoid temptation when faced with a plate of your favorite party food or a menu filled with diet disasters?
Family-Friendly Eating
Despite all your good intentions and commitment to starting your weight loss journey, one of the toughest challenges facing moms trying to lose weight is the temptation of their families to continue to eat forbidden foods.
It's probably easier said than done to get your kids to swap chocolate and chips for a healthy snack, but there are ways to make healthy foods more attractive.
Kids' favorite peanut butter spread on some whole wheat toast is a healthy option for a snack, or you could make some flapjacks with oats and berries.
Sugar-free jelly makes an extremely low-calorie option (just 8 calories for 140mls), so it's a good idea to have some made-up in the fridge or try freezing it for a summer snack.
Plus, keeping a colorful selection of fresh fruit in the house is great for you and the kids, and having a variety means they won't get bored.
Regarding meal times, healthy eating should be encouraged for all the family; a dish of lean meat, fresh vegetables, and whole wheat carbs is both filling and delicious.
However, it is easier to control portions when plating your food rather than serving from the table.
Just try eating your food on a smaller plate, and give the man in your life extra meat to keep him happy!
Dining Out on a Diet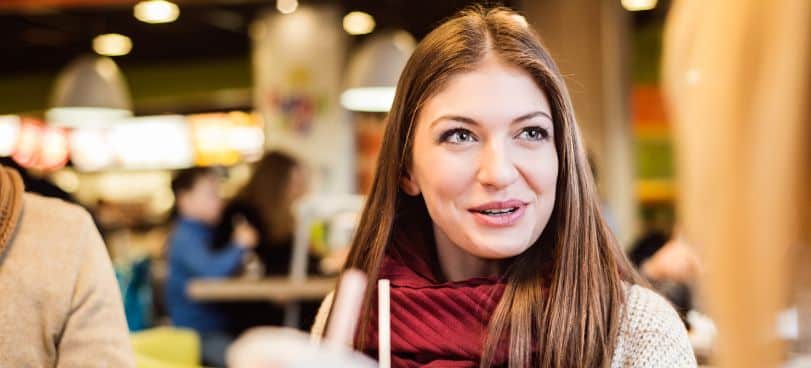 Treating the kids to ice cream, burger or pizza can still be something you do from time to time. However, turning it into a trip out together as a family will make it seem more of a special occasion.
You can join in too, but don't let all that weight loss go to waste.
Choose something such as a hamburger minus the cheese with extra salad when going for fast food or a small low-fat frozen yogurt at the ice cream parlor.
You can really save fat and calories by ordering well; for example, a thin-crust vegetable pizza will save more than 150 calories and 12 grams of fat.
When choosing food at a restaurant, there are some other strategies that can help you avoid gaining weight while eating out.
You shouldn't be afraid to ask questions about cooking procedures, portion sizes, or the possibility of a healthy substitution so you can make an informed decision before you order.
Adopting strict policies can also help, such as sharing a course with a friend, ordering one or two starters and a side salad instead of a starter and a main, or if you have a sweet tooth, going for a starter and a dessert.
Passing on the bread can help, and you can have some wine, but mix it with soda water to save on the calories, and always order sauces and dressings on the side.
If you know you're going to a restaurant that night, eat healthy but filling mini-meals throughout the day, or make sure you have a healthy snack in the afternoon to curb your appetite, and you'll be much more in control when faced with a menu of dieting minefields.
Party Pitfalls
A buffet is every dieter's worst nightmare; studies have shown that when faced with so many choices, we tend to eat more without even realizing it, and although you can avoid buffet restaurants, you will often find buffets at parties and wedding receptions.
So how do you choose well when you're faced with a table of food and given a clean white plate to fill? First, you should take a look at everything there is to offer and decide what you really want to try.
Then take small taster samples of the foods you think look most delicious and sit down to savor the tastes of what you've chosen to decide which really deserves a slightly bigger portion.
Be as tough as a food critic; don't accept anything mediocre; your health is more important than that. You should also follow the same plan about the dessert options; be picky and critical, and never feel that you have to eat something just because it's on your plate.
It is inevitable that as you continue along your weight loss journey, you will be faced with tempting foods and find yourself in situations where you have less control over what you eat.
However, these tips should make it easier to know how to choose wisely and make sure that your good work is not undone.
We would love to hear from you if you have any tips of your own about how you make healthy choices at restaurants or if you have any strategies for how you have successfully avoided temptation!