The Bride-to-be Survival Guide
If you're a bride-to-be on their weight loss journey, it's a cruel irony that the months leading up to your wedding day are filled with celebrations revolving around food, just as you're trying to get into your best bridal shape for the big day.
The moment that rock hits your finger, the food fest begins… champagne toasts, engagement parties, bridal showers, food and cake tastings, brunches, bachelorette bashes, rehearsal dinners, and even the honeymoon.
But don't despair! This buffet of festivities doesn't have to be your undoing; just stick to these stay-on-plan strategies for every celebratory pit stop on the way to your happily ever after without losing sight of your weight loss goals!
The Engagement Party
When it's time for the champagne toast, smile, clink, take a sip… and then place your flute on the table and reach for a glass of sparkling water.
Make Yourself a (Small) Plate
At the buffet table or as the appetizers float by, avoid mindlessly eating as you go along. Instead, make yourself a small plate of items that you really want to try, then you can see exactly how much you're eating.
If something doesn't taste great, leave it – you've worked too hard to waste time eating food that isn't really delicious.
All these people are here for you and your partner, so make them feel welcome and show your appreciation for them being there to share in your joy.
Make sure you greet each and every guest, and with all of your favorite people in one place, you won't have time to over-indulge.
Whether you hire a band, get a DJ to spin some tunes, or just hook up your MP3 player to a portable sound system, make sure the playlist is full of music that gets everyone moving, and don't be afraid to show off some moves of your own!
The Bridal Shower
Don't be a boring bride and enlist a line of bridesmaids to open your presents!
The task of unwrapping keeps both hands busy with a fun non-edible activity, plus you can show your appreciation and thank people as you unwrap.
Mingle During Courses, Not Between
If your shower is in a restaurant, eat a little of what you want, then leave your seat and visit friends at each and every table. All of your guests will feel extra special, and if you come back to a cleared plate, so much the better!
Food and Cake Tastings
Schedule a food tasting at lunch or dinner so you don't end up eating twice.
However, if you're cake-tasting, it's better not to satisfy hunger with sugar, as this can fuel future cravings for sweet things, so make sure you have a small meal first and don't turn up starving.
Share the responsibility of tasting cakes with people whose opinions you value, such as your bridesmaids, your mom, or your partner, and get them to share the calories too.
Think Like a Restaurant Critic
Rather than finishing what's in front of them, professional food tasters just eat a little of each food item to judge the taste.
As you sample multiple appetizers, entrees, side dishes, and cake fillings, remember that just one bite will give you all the information you need to make your decision.
If the sample is bad, you won't want to keep eating it; if it's good and you want to eat more, you'll know you've settled on the right choice and can move on without another taste.
Ask the staff to bring a pitcher of water to the table and drink plenty during your tasting — it will help fill you up, as well as cleanse your palate for the next course.
The Bachelorette Bash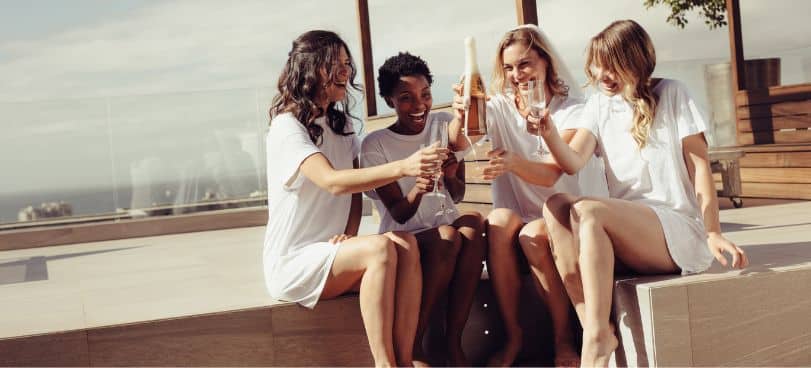 Ask your bridesmaids to consider a party with lots of energy, such as a pole dancing class, a pool party, or a roller disco.
If you're hitting the town or going clubbing in Vegas, make sure you do plenty of walking from venue to venue.
Wear something glitzy, glam, and as tight-fitting as you can comfortably wear. It's your night to show off all your hard work so far, plus a figure-hugging outfit will remind you of your goals, even as your friend hands you another cocktail!
Your Wedding Reception
Set aside 30-60 minutes of the morning on your big day to fit in a little exercise – it will do wonders for your mind and body.
Whether you take a brisk walk with friends, go for a quick solo run, or pop in your favorite yoga DVD, a workout will help ease the inevitable pre-wedding jitters, plus leave you feeling fit and energized, and looking great.
You'll probably be too nervous to eat before the big event and too busy afterward, so it's likely with all the reception craziness, you'll be starving by the time you get to your hotel suite.
The key is to be prepared – arrange in advance to have a healthy meal or snack delivered to your door so that you'll be less tempted to attack the fattening mini-bar full of chips and candy bars or order midnight fries from the room service menu.
The Honeymoon
Build Exercise Into Your Itinerary
If you're beach-bound, try to get some exercise in during the morning before you begin languishing on a sun bed for the rest of the day.
The ocean is your playground, so why not go for some snorkeling, swimming, or even try your hand at surfing?!
If these aren't for you, you could always visit the hotel gym, take a brisk walk on the beach, or rope your partner in to play some tennis.
Leave the Rental Car at the Hotel
If you're heading to a big city, act like a local and walk wherever possible.
You'll burn calories as you see all the sites and get all the best photo opportunities that you would have missed from inside the car.
Don't lose sight of your goals
You may feel like it's time to relax now that the big day is over, but depending on how far along you are in your weight loss journey, you shouldn't let all your hard work go to waste by throwing all your healthy eating plans out of the window.
Also, you should continue to be mindful about what you eat, choose lower calorie options when you can, and remember not to feel the need to clear your plate or eat things you don't like that much just because they're there.
Are you planning a wedding while you're on your weight loss journey? We'd love to hear from you if you're a bride-to-be, so please comment below!