How to Choose a Healthier Breakfast Cereal
Cereal is one of the easiest breakfast options and still stands strong as America's favorite choice in the morning.
However, thanks to recent reports highlighting how much sugar some brands contain, navigating the cereal aisle can be challenging, especially if you're trying to lose weight.
So, if you're missing your morning crunch, then we have some great tips to help you choose the best cereal for your weight loss plan, plus a list of the healthiest cereals around to get you started.
How To Choose A Healthier Cereal
The key to ensuring your breakfast bowl is good for you, and your weight loss goals, is to look out for which offers the best nutritional value.
So, when you're checking the nutritional labels and ingredients, pay particular attention to how much sugar, fiber, protein, and whole grains your cereal of choice contains.
And don't forget to keep portion sizes in mind too! Here's what you should be looking out for:
Say No To Sugar
The less sugar, the better, but experts advise an absolute maximum of 10 grams of sugar per serving, and ideally fewer than 5 grams per serving.
Not only does sugar lead to weight gain, but eating too much sugar when you're hungry can heighten cravings for sugar as it builds up the association in our minds between hunger and sweet foods.
Fill Up On Fiber
To make sure that your cereal keeps you feeling full throughout the morning, look for a cereal that has at least 3 grams of fiber (but ideally 4 or 5 grams) per serving.
The fiber in cereal helps to reduce the effect of the sugar content, ensuring that your blood sugar levels remain steady and don't cause a crash mid-morning.
Inspect Ingredients
The ingredients of any product are listed in order, so whatever ingredient is listed first is the main component of the food. When it comes to cereal, the first ingredient should be a type of whole grain, whether it's whole wheat, whole oats, or whole barley.
Whole grains help to promote heart health.
As well as checking for whole grain, you should also be on the lookout for ingredients that you can recognize and pronounce, rather than processed ones.
Protein Power
Like fiber, protein helps to keep you full, so it's good to incorporate a source of protein with your breakfast.
Look for brands of cereal with at least 5 grams of protein per serving; if your cereal falls short, pair it with Greek yogurt or a boiled egg to up your protein power for the morning.
Control Your Portions
While you're considering how much sugar, fiber, and protein your cereal of choice has per serving, it's important to bear in mind how much a serving is.
All cereals have a suggested serving size, and it can be a lot smaller than what we'd pour straight from the box, which is why you need to control your portions!
Measure out the serving to start with.
Usually, it's around 1-1.5 oz, and then see how filling you find this measuring bowl. If you feel that you need more to get you going in the morning, then you can add chopped nuts or some fruit to your bowl to bulk up your breakfast.
The Healthiest Cereal Choices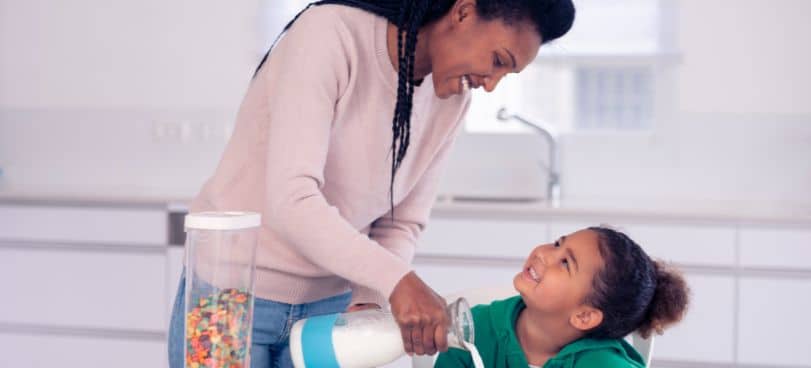 Knowing the criteria for a healthy cereal, you can check to see if your favorite measures up.
However, if it doesn't, then this list of some of the healthiest and tastiest cereals around is perfect for getting you started:
1. Arrowhead Mills Steel Cut Oats Hot Cereal
Oatmeal – it's an oldie but a goodie. These organic oats are sugar-free, whole grain, and contain 5 grams of fiber and 6 grams of protein per serving (a third of a cup).
Make your oatmeal with nonfat milk or water, or a mix of the two, and you'll be full for most of the morning. Add fruit for more filling fiber, nuts for fiber and protein, and a sprinkle of cinnamon instead of sugar for sweetness.
2. Kashi 7 Whole Grain Nuggets Cereal
This hearty cereal combines the flavor and goodness of buckwheat, barley, and oats and is the least sugary of the Kashi cereals, with 3 grams per serving (half a cup).
It also packs in 7 grams of protein and 6 grams of fiber – more than a quarter of your daily requirements.
3. Nature's Path Organic Optimum Power Blueberry Cinnamon Flax Cereal
The addition of blueberries boosts this cereal's fiber content to a whopping 9 grams per 55g serving.
It also packs an impressive 9 grams of protein and healthy omega-3 fatty acids thanks to the flaxseed. It does come in at the top of the scale on the sugar count with 9 grams of sugar per serving, but this is also in part due to the blueberries.
However, when sugar is paired with fiber, the same blood sugar spike and crash don't happen because the fiber helps to release the sugar gradually into the bloodstream.
4. Wheatena
This hot cereal alternative to oatmeal contains no sugar, 5 grams of fiber, and 5 grams of protein per 40g serving.
It also is fortified with calcium, providing you with 20% of your recommended daily allowance per bowl.
5. Uncle Sam Original Whole Wheat & Flaxseed Cereal
This hearty cereal contains flaxseed to boost heart health and provide healthy fats to reduce inflammation.
A 55g bowlful has less than a gram of sugar, plus this cereal packs an impressive 8 grams of fiber and 7 grams of protein per serving.
6. Shredded Wheat
This classic cereal ticks all the boxes as it's made from just one ingredient – 100% whole grain, and contains no sugar or sodium, 6 grams of fiber, and 5 grams of protein per serving.
It's also really easy to make sure you're controlling your portions of Shredded Wheat as a serving is two biscuits, no weighing or measuring necessary!
With any of these cereals for breakfast, you'll get your day off to a great start and keep hunger at bay until lunchtime!