Save Your Wallet & Your Waistline: 3 Easy Lunch Ideas for Work
Packing lunch helps you save money and lose weight, but the average American still eats out an average of 4.5 times per week.
For many of us, these are last-minute meals that we spontaneously grab from a nearby restaurant.
Whether you buy lunch because there's no time to cook, have trouble thinking of tempting homemade lunch ideas, or crave that midday social getaway, it's a costly habit.
So, here's more information about why packing lunch is so great and three easy lunch ideas for work!
Reasons to Pack a Lunch
Packing lunch is great for your wallet, health, and the environment.
We often hear about the many benefits of packing a lunch, but sometimes it doesn't really sink in until we read about it in more detail. So: here are the four main reasons you should start packing and stop buying!
To Save Money
Did you know that the average American household spent more than $3000 eating out in 2015? While this number may be shocking initially, it's not surprising when you consider our weekly eating habits.
Zagat reports that Americans eat out an average of 4.5 meals per week, with a typical dinner bill of over $36. If you're going out for lunch instead of dinner, your meal probably costs a little less, but even an $8-10 meal 4-5x per week really adds up!
When you break it down, it's easy to see why eating out can very quickly become a very pricey habit.
Instead, opt to buy your groceries and prep food at home. While this may require a little more time and planning at first, you'll save big money in the long run – even if you continue eating the same foods.
Take sandwiches, for example. If you go to a quick-serve restaurant and order a sandwich plus chips and a drink, you'll spend about $10.
Instead of making that same meal at home, it'll probably cost around $3-5 (depending on the ingredients). Let's say you're buying an average of 4.5 sandwich combos per week at $10 each.
That's $45 per week or $2300 per year. If you half that by packing the same gourmet sandwich meal, you'll save almost $1200 per year – just by making your own sandwich!
Think about all the awesome things you could do with an extra $1200 per year… That's a month's rent, a summer vacation, a student loan payment or savings boost, and a year of electricity. The possibilities go on and on.
If you're a regular at Italian or Mexican restaurants that serve you lots of rice or pasta, you can probably save even more. Grains are cheap to buy in bulk, and when you buy them yourself, you can always choose the healthiest varieties.
Want to save even more? Go for simple sandwiches and recipes that use cheaper ingredients. For example, sandwiches like PB & J, turkey & cheese, or tuna salad are typically cheaper than more complex varieties.
To Eat Healthier
Packing food also allows you to control what's going into your body and when.
At restaurants, it's easy to accidentally order an overly-filling dish that works against your weight loss goals, even when you think you've picked a healthier menu item. This is only worsened by the fact that restaurant portions usually provide way more food than we need.
When you make your own food, however, you control what, when, and how much you eat.
You get to pack awesome meals that keep you full and ready to resist cravings all day long! If you're all about convenience, pack a meal replacement shake for breakfast, a salad or sandwich for lunch, and as many fruits as you want.
Or, if you like a heavier midday meal, think about leftovers as satisfying and easy lunch ideas for work. Bonus: taking leftovers to work is a great way to reduce food waste (and save money)!
Plus, when you cook at home, you control what goes into each of your healthy recipes for work. Love spaghetti and meatballs, but hate the calories and carbs. Make yourself some zoodles (zucchini noodles) with marinara and turkey meatballs!
There are many ways to makeover your favorite recipes and incorporate them into your phentermine weight loss journey. By prepping your meals at home, you save the calories (and fat and sugar and sodium) and, if you're creative, feel a lot less deprived!
Since the goal is to make healthy eating a lifestyle instead of a passing phase, learning to pack your lunch and control your food is a great step in the right direction!
To Foster Variety
Do you go to the same three restaurants every time you go out for lunch? That routine doesn't leave much room for variety.
When you're losing weight, it's more important than ever to make sure you're eating an assortment of different foods to get all of your necessary vitamins and minerals.
While vitamin pills and supplements and injections (e.g., B12) help fill in the gaps, it's always best to get your nutrients from food.
More than that, when you're watching what you eat, it's easy to fall into a rut – especially if you're ordering the same five salads from a couple of local restaurants over and over and over again.
To prevent this inevitable boredom, plan ahead and choose fun food to pack for lunch. If your food is new and different, you'll be more excited to eat, feel more satisfied and be more likely to pass on unhealthy snacks or give into cravings.
To Save the Environment
Last but definitely not least, packing a homemade meal instead of grabbing takeout saves the environment!
When we grab lunch to go from a restaurant, they inevitably serve it in way too many Styrofoam, plastic and paper containers.
Then, as soon as we've finished our food, we toss these containers and add them to the growing local landfill.
Instead, pick your food to pack for lunch and then take it in reusable containers.
Tupperware, GladWare, and similar are great options for storing and transporting all of your favorite healthy lunch items.
They even make reusable Ziploc-like baggies now, if you're feeling extra-ambitious! Plus, by bringing a reusable container, it's easier to reject the notion of a "clean plate club."
If you can just close the container back up and take leftovers home, there's no reason to eat until you're absolutely stuffed.
3 Easy Lunch Ideas for Work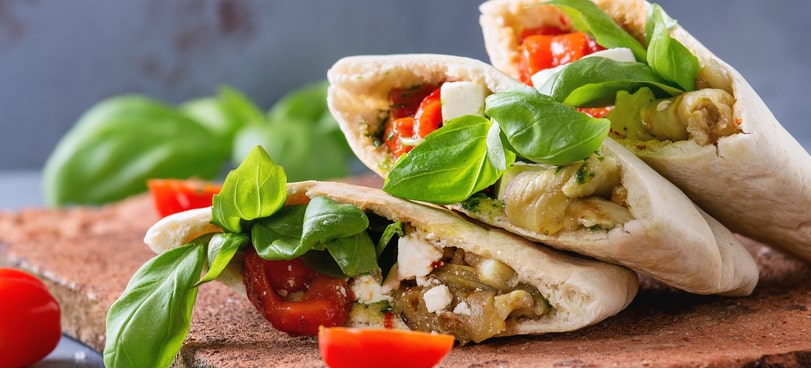 There are many benefits to packing lunch, but we still haven't addressed one of the main reasons people don't pack lunch: lack of inspiration.
It can be hard to find easy lunch ideas for work, so we've gathered a couple of options to get you started. Here are three easy lunch ideas for work that all take less than 30 minutes to prepare.
There's a variety of hot and cold meals so that you can pick what works best for you. Happy lunch packing!
1. Pita Pockets
Swapping sandwich bread for pita bread is a great way to mix things up without sacrificing time or convenience. It also saves on calories if you substitute one pita for two slices of whole wheat bread.
While an average whole wheat pita (e.g., Toufayan) contains only 130 calories and 1g of fat, a typical slice of 100% whole wheat bread (e.g., Pepperidge Farms) contains 120 calories and 2g of fat.
Since we usually eat two slices of bread, your sandwich already has 240 calories and 4g of fat before adding any toppings! Switch to pitas to save more calories (and room) for yummy sandwich makings.
Here are a couple of ideas for delicious, homemade pita pockets:
Hummus with Cucumber and Tomato
Cut your pita bread in half. Pry the pita open (like an envelope) and spread hummus inside both halves. Then fill your pita with sliced cucumber and tomato, or whichever veggies you like best!
Salad-Stuffed Pita
Make your favorite salad (Greek, cobb, tuna, etc.), add the dressing, and toss it. Then, cut and open your pita and stuff each pita in half with your favorite salad. It's a more portable and convenient way to eat your lunchtime salad.
Tried & True Turkey
Turkey sandwiches taste great on pita bread too. Whether you like turkey and cheese or turkey and avocado, pita pockets are a great way to mix it up.
Cut and open the pita, spread some mustard or ranch inside each pocket (if you want it), and then add in the fixings.
The best part of pita bread: you have lots of room left over for veggies! Stuff any extra space in your pita pocket with lettuce, tomatoes, or whichever vegetables you prefer.
Tip: Before stuffing, microwave your pita bread for 10-20 seconds to make it softer and less likely to crack.
2. Burrito Bowls (or Taco Salads)
Love Chipotle or Qdoba? Try your hand at making their famous bowls and salads from scratch!
These dishes are super simple and cheap to prepare, making them a great addition to your list of easy lunch ideas for work.
Cook up some brown rice, chop a head of lettuce, drain & rinse a can of beans, grab some salsa, and then pick a cheese. You're already 90% there!
For protein, taco meat is easy and delicious: either chicken or lean ground beef works, depending on your preference. Prepare the meat according to the taco seasoning's directions or, better yet, use only half of the taco seasoning to cut down on sodium.
When all of your ingredients are prepped, put ½ cup of cooked rice and 1 cup of chopped lettuce in a medium container.
This is the base of your burrito bowl. If you're watching carbs (or just want a salad!), skip the rice and add some more lettuce. Next, add about half a cup of cooked meat.
Then add a ¼ cup of each of the remaining ingredients. Congratulations – you are now the proud owner of a homemade burrito bowl!
Tip: If you're planning to heat up your lunch at work, keep the lettuce separate. Nobody likes microwaved lettuce, and it's easy to add in after you've warmed up your food.
3. Lemony Lentil Salad
This recipe from Eating Well features protein-packed & fiber-rich lentils as the main ingredient.
Lentils are a weight loss powerhouse since they're so high in protein and have plenty of extra fiber to help keep you full for longer. Plus, dry lentils are super cheap.
You may immediately think of soup regarding lentils, but this fresh lentil salad will broaden your horizons.
It's a refreshing dish that can be eaten either warm or cold, and – best of all – there's only one step to prepare this recipe: mix everything together!
The original recipe is available on Eating Well's website. However, we've copied it below for your convenience.
Ingredients
⅓ cup lemon juice
⅓ cup chopped fresh dill
2 teaspoons Dijon mustard
¼ teaspoon salt, or to taste
⅓ cup extra-virgin olive oil
Freshly ground pepper, to taste
2 15-ounce cans of lentils, rinsed, or 3 cups of cooked brown or green lentils
1 cup crumbled feta cheese (about 4 ounces)
½ cup finely chopped red onion
1 medium red bell pepper, seeded and diced (about 1 cup)
1 cup diced seedless cucumber
Preparation
Whisk lemon juice, dill, mustard, salt, and pepper in a large bowl. Gradually whisk in oil. Add lentils, feta, bell pepper, cucumber, and onion; toss to coat. The salad will keep in the refrigerator for up to 8 hours.
Tip: If you're cooking the lentils dry, soak them in warm water for about 20 minutes before you cook them. Then, drain the soaking water and boil the lentils in fresh water. This will eliminate the bitter taste that you sometimes get with lentils.
Packing your lunch is a great way to save money, your health, and the environment. With these three easy lunch ideas for work, you're all set for the week!
Let us know what you think in the comment section below!