4th of July – The Healthy Way
Happy (almost) 4th of July! Across the country, we are excitedly anticipating the upcoming weekend's big parties, exciting games, colorful fireworks, and fun-filled feasts of burgers, hot dogs, chips, and watermelon.
This holiday will undoubtedly bring lots of festive activities and delicious food, so we're here to give you some ideas to help you stick with your healthy routines through it all!
Four Festive Recipes for July 4th
One of the best parts of July 4th is enjoying a BBQ or picnic with friends and family.
However, when you're working hard to shed pounds, all of the less-than-healthy food and drink options can prove really frustrating.
Instead of feeling left out of the festivities (or blowing your diet), offer to bring one of these nutritious and delicious dishes to enjoy and share while celebrating!
Red, White & Blue Summer Salad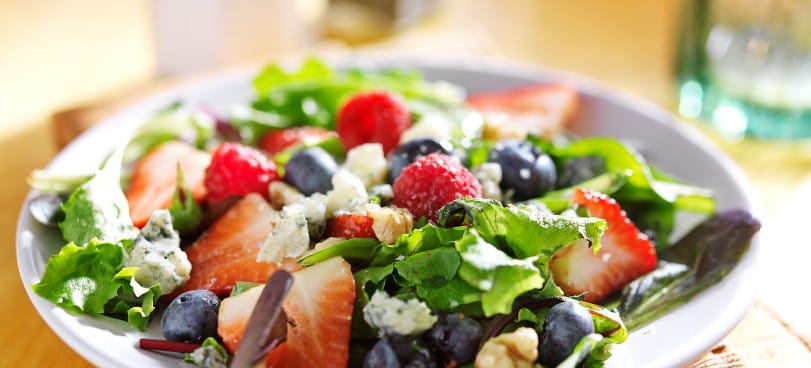 Make this patriotic salad as a delicious side for your neighborhood party, or add some chicken and bring it as a main dish! Regardless of how you serve it, it's sure to be a hit with kids and adults alike.
Ingredients
2 bags (about 12 oz) of baby spinach
1 cup fresh blueberries
1 cup raspberries (and/or sliced strawberries)
½ cup roasted, sliced almonds or pecans
Poppy seed dressing served on the side
Optional: 1 pound grilled chicken breast, cooled and sliced
Directions
Pour the spinach into a medium serving bowl. Add the berries and nuts. If desired, add chicken. Serve with dressing on the side, or toss with salad dressing just before eating.
Pro-Tip: Serve dressing on the side to keep your calories in check. Instead of coating your salad in dressing, pour a little into a small dish or onto the side of the plate.
Simply dip the fork into the dressing and then into the salad before taking each bite. Chances are you'll use way less calorie-heavy dressing in the long run!
Rosemary Ranch Chicken Kabobs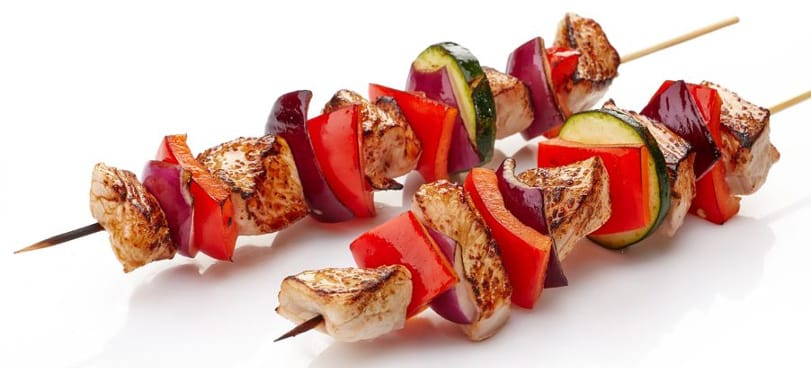 If you're in charge of the main dish and want to bring something healthy but flavorful, check out these easy and tender chicken kabobs from All Recipes! 
They're already great, and we've modified the original recipe slightly to make it healthier for phentermine users.
Ingredients
¼ cup olive oil
½ cup ranch dressing
3 tbsp Worcestershire sauce
1 tbsp minced fresh rosemary
1 tsp lemon juice
1 tsp white vinegar
¼ tsp ground black pepper, or to taste
5 skinless, boneless chicken breast halves – cut into 1-inch cubes
Directions
In a medium bowl, stir together the olive oil, ranch dressing, Worcestershire sauce, rosemary, lemon juice, white vinegar, and pepper. Let stand for 5 minutes.
Place chicken in the bowl, and stir to coat with the marinade. Cover and refrigerate for 30 minutes. Preheat the grill to medium-high heat. Thread chicken onto skewers and discard marinade.
Lightly oil the grill grate. Grill skewers for 8 to 12 minutes, or until the chicken is no longer pink in the center and the juices run clear.
Pro-Tip: Add some veggies (cut into about 1-inch squares) to your kabobs for some extra color and nutrients!
If you're in the patriotic spirit, alternate your chicken with red onions and red peppers to make your kabobs red, white, and (almost) blue.
Yogurt-Dipped Frozen Berries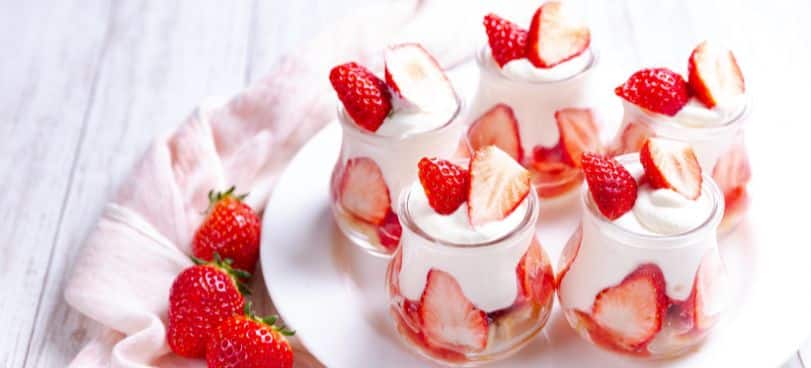 The ideal cross between breakfast and dessert, these frozen berries are a festive way to cool down on a hot day. We use strawberries, but blueberries work great too!
Just remember to keep them frozen until it's almost time to serve.
Ingredients
1 quart of fresh strawberries, washed and dried
3/4 cup (or one 6oz container) of non-fat/low-fat vanilla yogurt
Blue sprinkles
Directions
Choose a cookie sheet or pan that fits easily in your freezer and line it with wax paper. To make the dipping easier, pour the yogurt into a small bowl.
Holding strawberries by the stems and leaves, dip each strawberry about 2/3 into the yogurt. We recommend dunking it several times to ensure it's well-coated in yogurt.
Gently place the dipped strawberry on the lined cookie sheet. Repeat with each berry until all of the strawberries are coated and lying on the cookie sheet.
If you're feeling festive, dip the tip of each strawberry in blue sprinkles to make them a red, white & blue treat! Finally, place your berries in the freezer to harden the yogurt.
Freeze for 45-60 minutes for softer berries and yogurt or 2+ hours for a harder frozen snack.
Pro-Tip: If you freeze the berries for longer, take them out of the freezer about 5 minutes before mealtime to let them soften a touch before serving.
Watermelon-Lime Spritzer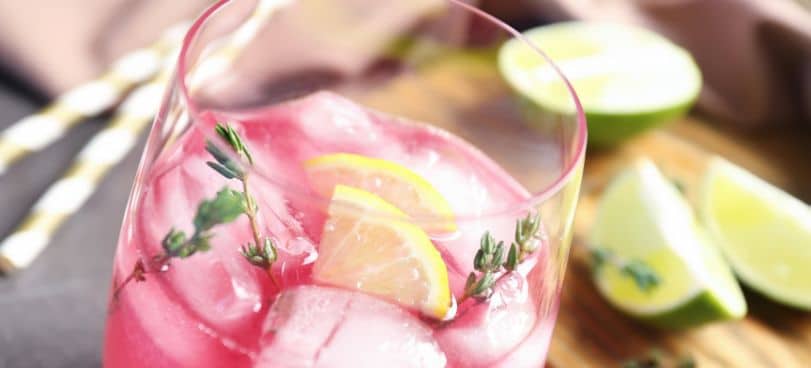 This is the perfect refreshing drink for everyone passing on alcohol this Fourth of July. Sweet watermelon with a touch of lime makes this beverage both delicious and revitalizing.
Ingredients
½ of a medium/large watermelon
1.5 liters (or about 5 cans) of sparkling water
1-1.5 fresh limes sliced into wedges
Optional: sprigs of mint for garnish
Directions
Carve the watermelon out into cubes and place in a blender. Blend well until liquefied. If you want the smoothest drink possible, go the extra mile and strain your watermelon puree through a fine sieve (strainer) before continuing.
Pour about 2 oz (1/4 cup) of watermelon juice into the bottom of an 8 oz cup. Fill the remaining space in the glass with sparkling water. Squeeze the juice of 1/8 lime into the glass. Stir well. If desired, add a sprig of mint for garnish.
Pro-Tip: If you want to use a different base, consider diet lemon-lime soda or regular water. Avoid club soda or tonic water since they usually have added salt or sugar.
Join the Fun and Games!
Hopefully, these healthy and festive recipes give you some help keep your diet in check, but that's only half of the equation.
Remember staying active is also critical to your weight loss journey! Thankfully, Fourth of July celebrations offer lots of opportunities to work up a sweat in fun and celebratory ways.
Join the kids' games: If you're at an event with lots of kids, there's usually an abundance of games to entertain the little ones.
Seize the opportunity to jump into the egg toss, three-legged race, water balloon fight, or scavenger hunt!
If you're not quite ready to join the kids, offer to organize or run some of the events.
Play volleyball (or baseball or football…): If you're with a bigger group, start an activity with teams. Depending on the available equipment, games like volleyball, baseball, football, soccer, frisbee, or badminton are all great options!
Whatever the choice, try to get as many people involved as possible. If you have lots of different levels or ages, don't stress about keeping score – just get moving.
Team sports are also great for parties if you have lots of people together that don't know each other that well and need an activity to break the ice.
Jump in the pool: Lots of adults avoid the pool at summer parties for a variety of reasons. This 4th of July, get your toes – or whole body – wet!
Even if you're not in the mood to go all-in, dip your legs in and kick or walk in the water with a friend.
The pool offers lots of great workout opportunities, and many of them don't involve swimming at all! If you're at a pool (or lake or ocean) for the Fourth this year, consider enjoying a dip to cool off from the summer heat.
Take part in non-food activities: While lots of events are centered around food, there's also a variety of other activities that you can plan and enjoy while celebrating.
If you're hosting, think about setting up a game or craft table to keep your hands busy while visiting friends and family.
Sometimes the hardest part of social situations is avoiding the mindless snacking on appetizers or desserts while you're chit-chatting with friends.
Regardless of your vice, healthy snack options and busy hands will help you avoid temptation this Fourth of July.
Do you have tips, tricks, or recipes to share with the community? Let us know in the comments section below!