Keto Chinese Food: What to Order & Avoid at Your Favorite Restaurant
You're doing great and losing weight on the keto diet, but then your friends suggest Chinese food for dinner. What do you do? You might decline if you're not sure what to order, or eat it as a cheat meal, but you can also order some great keto Chinese food if you know how to navigate the menu!
Here are the best low carb and keto Chinese food options on a standard menu… plus a few dishes you should you should skip if you're hoping to stay in ketosis.
Best Keto-Friendly Chinese Food Options
The traditional ketogenic ("keto") diet is high fat, low carb and moderate protein, so you're looking for dishes that fit that bill. Here are ten common Chinese dishes that contain less than 20 grams of carbs per serving, allowing you to enjoy dinner and stick to your diet!
1. Egg Drop Soup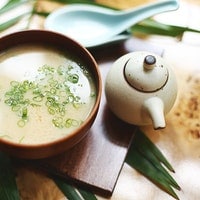 If you'd like a starter, or only want a light meal, go for egg drop soup instead of egg rolls. This classic Chinese soup is deliciously simple with a base of chicken or vegetable broth and only eggs, spices and sometimes corn added-in.
A standard cup of egg drop soup  (similar to the one from P.F. Chang's) has about 40 calories, 6g of carbohydrate, 1g of fat and 1g of protein. Compare that to one chicken egg roll from Panda Express, which has a whopping 200 calories, 20g of carbs, 10g of fat and 6g of protein!
2. Hot and Sour Soup
Not a fan of eggs? Or like soups with a bit stronger flavor? Hot and sour soup is another great, low carb Chinese food option! It's a broth-based soup with mushrooms and other veggies added-in, plus chili garlic paste and tofu.
A cup of hot and sour soup from Pei Wei has 70 calories, 6g of carbs, 2.5g of fat and 6g of protein.
3. Beef and Broccoli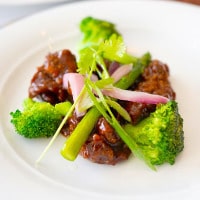 Beef and broccoli is a staple of Chinese food menus around the world, and turns-out it's a relatively healthy choice as well. This traditional dish is, as the name suggests, sautéed beef and broccoli served in a soy-based, garlicy sweet sauce.
One serving of "broccoli beef" from Panda Express 150 calories, 13g of carbs, 7g of fat and 9g of protein. Pair it with some extra steamed veggies to make a delicious, filling keto-friendly Chinese food dinner.
4. Moo Shu Pork/Chicken
Moo shu pork or chicken is a classic meat dish prepared with sweet sauce and vegetables, typically served with tortillas and eaten like tacos or burritos. If you're on the hunt for keto Chinese food, moo shu is a great option as long as you ask them to take out the hoisin sauce and skip the tortillas. When ordering takeout, swap the restaurant's typical scallion pancakes for leaves of lettuce to make at-home, keto-friendly lettuce wraps!
A one-cup serving of homemade moo shu pork (without the high-carb hoisin sauce) has about 300 calories, 18g of carbs, 18g of fat and 20g of protein. When dining out or ordering in, ask your favorite restaurant if they can adapt the dish to make it lower carb for you.
5. Shrimp/Chicken/Beef with Vegetables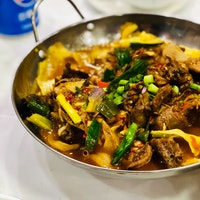 When in doubt, go for a steamed or sautéed dish of meat and vegetables. Shrimp or chicken and vegetables are just that and, unsurprisingly, a great keto Chinese food choice.
Pick Up Stix makes a tasty Shrimp and Vegetables tossed in white wine sauce that rings in at 180 calories, 17g of carbs, 5g of fat and 13g of protein per half order. If you want a little more volume, pair your entrée with an extra side of steamed veggies.
6. Black Pepper Chicken/Steak with Onions
Pepper chicken or steak is another healthy option and it's a standard protein + veggie dish on most Chinese menus, so it's a must-have on any list of keto Chinese foods. This popular dish is simply sliced-up chicken or steak stir fried with bell peppers, onions, soy sauce, garlic and other spices.
A half order of P.F. Chang's Pepper Steak has 320 calories, 15g of carbs, 18g of fat and 26g of protein. Like with other entrees, pair this steak with some steamed veggies to bulk-up your meal.

7. Egg Foo Young (Vegetable Omelette)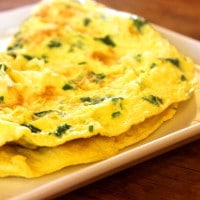 Egg Foo Young is a vegan, omelette-like dish served with a simple soy-based gravy. Like the breakfast omelets you're accustomed to, this dish is exceptionally low carb and high-protein. Although it is typically served with rice, it's also great over riced cauliflower or eaten on its own.
A small serving of Egg Foo Young has about 170 calories, 6g of carbs, 14g of fat and 5g of protein. If you add about ¼ cup of gravy, that's another 90 calories, 3g of carbs, 4g of fat and 9g of protein.
8. Peking Duck
If you're at a bit fancier Chinese restaurant, chances are that you'll see Peking Duck on the menu. This traditional dish has been served for thousands of years and is characterized by the poultry's thin, crisp skin. While typically served with scallion pancakes and hoisin sauce, order just the meat if you're looking for a keto Chinese food meal.
One serving of Peking Duck (just the meat) has about 360 calories, 12g of carbs, 16g of fat and 37g of protein.
9. Tofu with Vegetables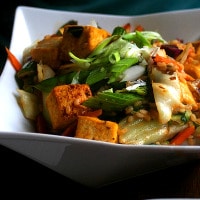 Looking for a high-protein and filling vegetarian meal? Check out tofu with vegetables, an often-overlooked keto-friendly Chinese food. However, it's important to be careful with your sauces since they tend to be a big source of sugar and carbs – especially in vegetarian dishes.
Go for chili paste, plain soy sauce or black bean sauce to keep carbs low. Skip hoisin, teriyaki, oyster, plum and sweet and sour sauces. Calories and carb count will vary significantly depending on which (and how much) sauce you use to flavor your dish.
10. Shrimp/Scallops in Chili Sauce
Seafood in chili sauce is another keto Chinese food staple because the spicy condiment is low in carbs and packs a powerful punch of flavor. These dishes do not traditionally contain any vegetables, so make sure to order some  cauliflower rice or steamed veggies to enjoy with your chili-bathed meat or seafood.
One serving of Sichuan prawns in chili sauce has about 190 calories, 3g of protein, 9g of fat and 23g of protein.
❌ What NOT to Order ❌
There are some delicious keto-friendly Chinese food dishes, like the ones listed above, but there are also many plates that will wreak havoc for both your waistline and ketosis. Some of the WORST choices for keto Chinese food (a.k.a. the ones that practically guarantee you'll be thrown out of ketosis) include:
🍜 Noodle Dishes
Steer clear of noodle-based dishes like chow mein, lo mein and chow fun, which are all high in carbs, fat and calories.
🌯 Egg Rolls
Choose soup or spring rolls instead of egg rolls to minimize carbs, fat and calories.
🥟 Dumplings
Dumplings (pot stickers), wontons, ragoons and other dough-based foods are high in carbs and a surefire way to fall out of ketosis. Choose soup or a chicken skewer (chicken kebab) instead.
🍚 Fried Rice
Fried rice is high in calories, fat and carbs – nothing you want when you're trying hard to lose weight with keto. If you want a side, choose steamed veggies, riced cauliflower or a cup of soup instead.
🥡 Breaded Meats and Seafood
Dishes like general Tso's chicken, sweet and sour shrimp and sesame chicken are high in calories and carbs, especially when the sauce is sweet and/or thick. Instead of these classics, order a non-breaded meat that's steamed and flavored with either plain spices (e.g. pepper) or ask for the sauce on the side.
Do you have a favorite keto Chinese food, or low carb Chinese food that you always order? Share it with us in the comments section below!