14 Healthy Breakfast Recipes
Sleeping is not only great for weight loss, it's also a time machine to breakfast (aka the only reason to get out of bed in the morning)! Everyone from doctors to personal trainers to moms proclaim that a balanced, satisfying and healthy breakfast is a surefire way to start your day off on the right foot. Fueling your body well first thing in the morning fends off mid-morning hunger, and in many cases, hanger. So, here are 14 delicious and healthy breakfast recipes created by some of our favorite Instagram stars that will get you (and your metabolism!) going with a new, tasty dish every morning
Healthy Breakfast On the Go
Is every morning a race against the clock to get out of bed and out the door in time for work or class? Hectic mornings don't leave much time for a gourmet, sit-down breakfast, but that doesn't mean you have to all-together skip this powerhouse meal! Check out these quick & easy recipes for healthy breakfast on-the-go!
Granola Parfait To-Go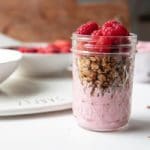 This sweet & easy recipe by lifestyle blogger @soniakaye is a great breakfast to throw in your bag and eat at work, school or wherever the morning takes you. Yogurt and granola is a popular combination in restaurants too, but store-bought granolas are often loaded with added sugars and extra calories (NOT what you need when your'e working so hard to lose weight!). So, why not make your own homemade parfait? This granola and berry coconut yogurt parfait recipe is the perfect, healthy breakfast on the go!
⭐ Get the full recipe here: Homemade Granola
Brussel Sprouts Hash and Eggs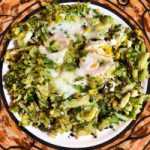 Pressed for time, but craving veggies? This healthy breakfast recipe from entrepreneur @jesshergert provides a powerful punch of in fiber, vitamins C & K and protein to start your day off right. Plus, most importantly, it's ready in less than 10 minutes! The ingredient list is simple too: cooking oil, eggs, shaved brussel sprouts, garlic, Parmesan cheese, lemon juice, salt & pepper.
⭐ Get the full recipe here: Brussel Sprouts Hash and Eggs
Caramel Apple Bowl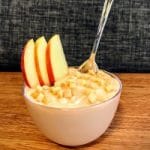 "If it calls for a mixing bowl, I am probably out. Simple." We feel you, @rlfood!
When it comes to breakfast prep, we're all about healthy breakfast recipes like this one that are ready in one minute in one bowl! This carmel apple yogurt bowl is a perfect option if you're in the mood for a lighter breakfast or mid-morning snack. It's a great on-the-go option too since it's served cold and only has three, easily-packaged ingredients: apple, sliced slivered almonds and Greek yogurt.
⭐ Get the full recipe here: Caramel Apple Bowl
Southwest Breakfast Scramble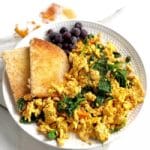 No time for complicated egg dishes? No problem! This southwest breakfast scramble from @beth_wightman is one of our favorite quick and easy healthy breakfast recipes. Just throw all of the ingredients in a pan and cook, and voila: healthy breakfast to go in less than 5 minutes! Eggs are a great source of protein and this scramble doesn't skimp on flavor either. Serve it in a bowl, or wrap it up in a whole-wheat tortilla if you're going to eat while walking or driving. For the scramble, you'll need: eggs, bacon, kale, orange pepper, purple onion, olive oil, taco seasoning and sliced green jalapeños.
⭐ Get the full recipe here: Southwest Breakfast Scramble
The Ultimate Green Smoothie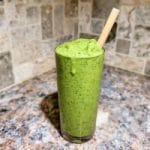 Smoothies are the perfect healthy breakfast on the go if you only have 5-10 minutes to run out the door each morning. This green smoothie recipe by certified personal trainer @thelilblondevegan is super-tasty, vegan and loaded with plenty of fruits and vegetables to keep you full and nourished all morning long! Make your own green smoothie by blending together almond milk, mango, yogurt, spinach, kale, and a banana.
⭐ Get the full recipe here: Favorite Green Smoothie
Easy Vegan Breakfast Ideas
Whether you are vegan, vegetarian or just trying to cut down on meat while eating more fiber and vegetables, these recipes are just what you need to supercharge your mornings. Try one of these easy vegan breakfast ideas this week!
Matcha Oatmeal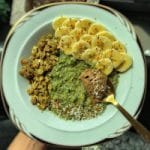 Green with envy just looking at @macros_with_mon's breakfast? If you're an oatmeal lover want to put a fun twist on your everyday breakfast, follow Monica's lead and dig into this amazing matcha oatmeal. Matcha green tea is high in antioxidants, which promote weight loss and support heart & brain health. So, matcha oatmeal is both delicious and nutritious! To recreate this Instagram-worthy bowl, you will need: plant milk, oats, bananas, agave, matcha powder, chia seeds, granola, almond butter, hemp hearts, coconut flakes and bee pollen.
⭐ Get the full recipe here: Matcha Oatmeal
Chia Oats with Berry Jam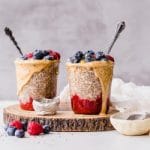 Looking for a protein-packed breakfast without eggs? This easy, vegan breakfast recipe by plant lover @bakeritablog ticks all the boxes for nutrition. Chia seeds are loaded with fiber, protein, healthy fats, minerals (calcium, manganease, magnesium & phosphorous) and antioxidants, and low in calories, making them a powerful addition to any dish. They're easy to add too since a typical serving of chia is only about two tablespoons.
To recreate Rachel's delicious take on dressed-up overnight oats (pictured here), you'll need: rolled oats, dairy-free milk, maple syrup, mocha milk or cacao powder, chia seeds, vanilla extract, cinnamon and sea salt.
⭐ Get the full recipe here: Chia Oats with Berry Jam
Pink Pitaya Pancakes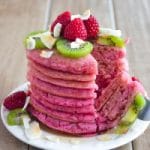 This has to be the cutest dish we've ever seen. If you have at least 30 minutes to prepare breakfast or want a fun, vegan brunch recipe for this weekend, check out this pretty in pink recipe by vegan enthusiast @veggieworldrecipes! These gorgeous pink pitaya (dragonfruit) pancakes will brighten your morning, impress guests and fill you up all in one go. The ingredients list is similar to any standard pancake recipe, but cleaned-up a bit and with some fabulous additions: whole wheat flour, ground flax, pitaya powder, coconut sugar, baking powder, salt, almond milk, apple cider vinegar, coconut oil and vanilla.
⭐ Get the full recipe here: Pink Pitaya Pancakes
Tofu Scramble with Avocado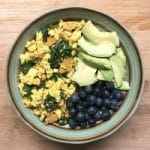 Eggs and avocado is a classic combination, but with plant-based diets exploding in popularity it's no surprise that the internet has regaled us with hundreds of vegan alternatives for this traditional breakfast staple. Interestingly, tofu contains more protein per serving (16g per half block) than eggs (13g per 2 eggs), refuting a common concern among people hesitant to adopt vegan alternatives. No matter your motivation for seeking easy vegan breakfast ideas, you'll love this recipe by @compassionateliving_byjill! You'll need extra firm tofu, vegan butter, nutritional yeast, garlic, cumin, turmeric, paprika and avocado.
⭐ Get the full recipe here: Tofu Scramble with Avocado (and Blueberries)
Spinach and Cacao Smoothie Bowl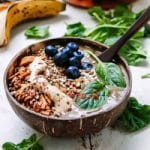 Spinach and cacao powder: two superfoods combined in a single bowl crafted to boost energy and keep you full all morning long! This smoothie bowl by @healthy_twists only takes four minutes to prepare… and even less to enjoy! It's a great, easy vegan breakfast idea because it's packed with disease-fighting antioxidants, plus protein, fiber and lots of vitamins and minerals. If you're ready to whip-up your own smoothie bowl like Claire & Sarah's, you'll need: spinach, bananas, cacao powder, wheat groats, chia seeds and cashew butter.
⭐ Get the full recipe here: Spinach and Cacao Powder Smoothie Bowl
High-Protein Breakfast Ideas
These high-protein breakfast ideas are perfect for people trying to boost protein intake: whether for weight loss, muscle gain or increased satiety. In fact, women who eat more protein at breakfast lose more weight than those who eat less protein! Try one of these high-protein breakfast ideas this week to see for yourself!
Protein-Packed Breakfast Muffins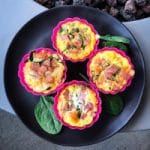 Egg muffins are almost ubiquitous on lists of healthy breakfast recipes, and it's for good reason! Eggs are a great source of protein, relatively cheap, can be prepared a variety of ways and are easy to make in bulk (read: weekend meal prep). If you're a quiche lover who doesn't have the time (or calorie budget) to eat full-on quiche every morning, check out this egg muffin recipe by @fortheloveoffoodandlife. You'll need eggs, spinach, cubed bocconcini, turkey bacon and salt (to taste).
⭐ Get the full recipe here: Turkey & Veggie Egg Muffins
FroYo Bark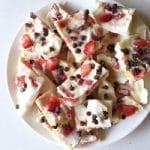 This isn't your typical breakfast, but it hits the spot if you're craving something sweet!  Whether it's for breakfast, after school, workout time or late at night, frozen yogurt (froyo) bark makes a fun and healthy treat. When made with Greek yogurt, it's super high in protein too! Just one container of Greek yogurt contains 15-17g of high-quality protein.
One caveat: froyo bark makes for the perfect high-protein, on-the-go breakfast if you're eating it right out of the freezer, but it definitely doesn't keep so well if you try to pack it for later (back to yogurt it goes!). So, keep your schedule in-mind before whipping up a batch of this yummy treat. To recreate the pictured bark from @joyful_health, you'll need yogurt, peanut butter, a fruit of your choice and chocolate chips.
⭐ Get the full recipe here: FroYo Bark
Avocado Toast with Pesto and Eggs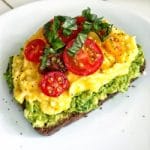 Avocado toast just never seems to go out of style. This 5-minute recipe is a fan favorite and a great way to start off the day with a happy tummy and heart! While avocado provides the healthy fats to keep you full through lunch, scrambled eggs give a punch of much-needed protein and the slice of bread (either paleo/GF or whole-grain) gives you some quick energy to attack your early morning to-do list! Check out this supremely well-balanced and delicious avocado toast with pesto and eggs from @kalememaybe! It's a great option for either a special weekend brunch, or a quick on-the-go weekday breakfast if you prep everything ahead of time (you could even make it with hard-boiled eggs!). You'll need eggs, avocado, cherry tomatoes, black pepper, fresh basil and bread.
⭐ Get the full recipe here: Avo Toast with Pesto and Eggs
Black Goji Berry "Nice Cream" & Cookie Dough Bliss Balls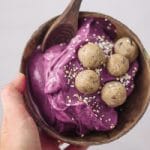 Are you ready to debut your breakfast on Instagram? This easy vegan breakfast recipe by @photobymanda is the perfect combination of beauty and deliciousness in one perfectly-sharable treat!  If you're ready to give it a shot, you'll need frozen bananas, black goji berry powder and oat milk for the nice cream, plus peanut butter, coconut flour, almond flour, buckwheat flour, agave syrup and cacao nibs for the cookie dough balls.
⭐ Get the full recipe here: Black Goji Berry Nice Cream Bowl & Cookie Dough Bliss Balls