5 Affordable Healthy Foods For Weight Loss
It can be difficult to know what to eat to get the best weight loss results, especially when there's a new superfood or fad diet in the news every week.
But, you don't have to fork out on expensive goji berries or stock your fridge with pricey coconut water to reap the benefits of healthy foods which can help you to lose weight.
In fact, many of the healthiest foods can be bought very cheaply.
Here we give you five examples of healthy foods that won't break the bank so you can save your money for something more exciting!
1. Legumes
Legumes, consist of different beans like kidney, pinto, black and white beans, as well as garbanzo beans and lentils, and are the ultimate in affordable healthy foods to eat while losing weight.
Full of fiber, protein, and weight-loss-boosting nutrients, legumes offer the perfect meat substitute to keep you feeling full, meaning less snacking, fewer cravings, and more fat-burn for your buck.
And, if you're on a budget, you'll be pleased to know that legumes can be bought in jars or dried in a bag for under a dollar.
Keep a selection of both in your pantry to give yourself options; dried legumes are generally cheaper and don't contain added salt or any preservatives but do need to be soaked overnight, so the jars offer a quick solution when you're pushed for time.
Try legumes in dishes such as tacos, fajitas, salads, stews, stir-fries, and soups.
2. Apples
Fruit is always great for a snack, but it can often go off if you buy it in bulk, meaning lots of not-so-wallet-friendly waste.
Apples, however, store well in the fridge (6-8 weeks), so feel free to grab those handy 3-pound bags.
Apples make a great on-the-go snack, so be sure to always have one in your bag for when you get hungry; the pectin in them is reported to keep hunger at bay for up to two hours, but remember to eat the skin to really reap the benefits of the fiber content.
3. Canned Tuna
Fish is one of the leading diet foods.
High in protein and low in calories, fish does a great job of filling you up, but some fish can be quite pricey, so it's not something that everyone can afford to eat too often.
Try to have fresh fish like salmon for dinner once a week to benefit from the wealth of omega 3 and omega 6 fatty acids it contains, but opt for the canned variety as a more convenient and affordable way to get your fish quota for the week.
You can buy canned tuna anywhere for between $1 and $2, depending on the amount, so it really is a great food to keep stocked up on.
Not only will it keep you full and healthy, but it is also very convenient; simply eat the tuna straight out of the can for a snack, with lettuce and pepper on whole wheat bread, in pasta, salads, or casseroles.
4. Oats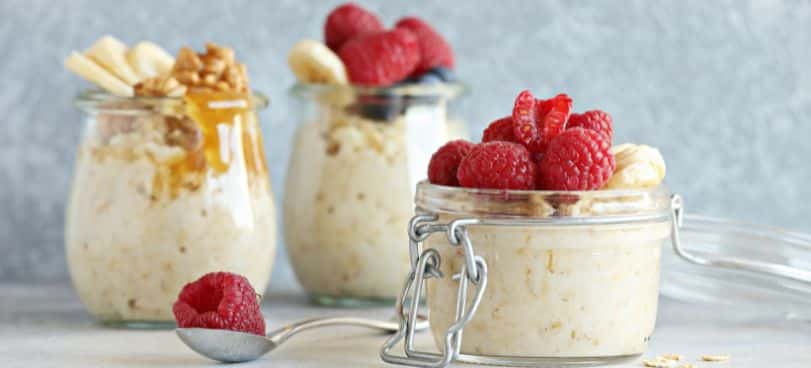 A classic staple used for centuries, oats are a great and inexpensive food for a nutritious breakfast or snack.
Half a cup of dried oats is equivalent to one serving when cooked, and costs just a few cents to fill you up on fiber and protein.
Having oatmeal for breakfast is a great way to keep hunger at bay for the morning as the combination of water and fiber-rich whole-grain oats will keep you feeling full for hours as your body takes time to break it down.
Avoid the overpriced super-sugary packaged oatmeal and cook your own steel-rolled oats with a stir of nutmeg or weight-loss-boosting cinnamon to satisfy your sweet tooth for a cheap and healthy way to start the day!
And, if you're not keen on hot oats, you can eat them as they are with some natural yogurt and berries for an equally healthy breakfast or snack, full of fiber, protein, and calcium too!
5. Carrots
Like apples, carrots keep for a long time, so it means less wastage, or, they can be chopped and frozen if you do have a lot of them to use up.
Carrots are a tasty and versatile food to eat on phentermine; they make great crudités for salsa, guacamole, or hummus; they're delicious roasted, grated carrot is perfect in a salad, plus they can also be used to bulk up homemade burgers and add flavor to stews and soups.
And, when it comes to health and weight loss benefits, carrots score high all around with a great fiber content plus plenty of vitamins A and C, beta carotene, in addition to a whole host of other minerals.
Here you can see that healthy eating doesn't have to involve spending lots of money on 'health' foods or buying into the latest superfood fad.
And, there are a lot more weight-loss-boosting, affordable foods that we could have added to this list, including eggs, natural yogurt, onions, whole grain pasta, frozen vegetables, brown rice, and tilapia – all of which are affordable healthy foods which keep you feeling full and provide lots of nutrients too.
So, if you're wondering what foods to eat while losing weight then this list is a great place to start!