10 Healthy Plate Ideas for the 4th of July (or Any Day!)
Happy (almost) 4th of July! Most of us head outside with family and friends to celebrate America's birthday.
Whether you're planning a trip to the pool, lake, park, or a friend's backyard, chances are that food and drinks will be a big part of the celebration.
So, how can you enjoy the festivities while still staying true to your weight loss goals?
Here are 10 healthy plate ideas to give you an idea of what a nutritious, reasonable portion of 4th of July fare looks like!
Healthy 4th of July Food Ideas
This week we're all about the red, white, and blue.
Depending on where you're celebrating, you may also be planning on indulging in some hot dogs, hamburgers, BBQ, or watermelon.
Festive foods often earn a bad reputation among healthy eating experts, but that doesn't mean they're all bad.
There are, of course, more nutritious and less nutritious options, but there's no reason to swear off any food completely.
If that one dessert or side dish makes the 4th of July for you, permit yourself to eat some: just focus on taking a reasonable portion!
This strategy proves pleasantly achievable for many phentermine users, given the medication's powerful appetite-suppressing effect.
Still, it always helps to have a game plan when you're headed to a big, food-focused event – especially if you're working so hard to lose weight. So, here are a few quick tips:
Skip the bun. The average bun has anywhere from 100-180 calories. Ask for your meat without a bun to save on calories and carbs. Instead, eat your protein off a plate or ask for it to be wrapped in lettuce.
Choose mayo-free salads. When you have the option, go with plain vegetables or a vinaigrette-based salad. Mayo-based salads (like traditional potato salad, coleslaw, or egg salad) are much higher in calories and fat. Instead, snack on fresh veggies or a green salad.
Prioritize treats. If you've been reading this blog for a while, you know I'm not a fan of super-restrictive or "no sweets ever" diets. So, let yourself indulge a little, especially if you see one of your favorite treats! Still, stay in control of your portion (use moderation) and pick only one treat – not the whole table.
Stay hydrated. Make an effort to keep a drink in your hand. Avoid alcohol and sugar-sweetened beverages. Instead, opt for water, unsweetened decaf tea, or low-calorie lemonade (e.g., Crystal Light) to quench your thirst.
10 Healthy Plate Ideas for the 4th of July
Millions of dishes combine to make a healthy plate of food, even when the foods are traditionally considered "healthy."
Using the tips above plus some smart portion control, it's easy to enjoy the 4th with your friends and family while still staying true to your weight loss goals!
In general, make it your goal to craft a plate that aligns with current MyPlate guidelines:
½ plate of non-starchy veggies or fruit
¼ plate of starchy veggies or grains
¼ plate of lean protein
Looking for a few ideas?
Here we have TEN delicious & healthy plate options – all with 500 calories or less per meal!
(1) Hamburger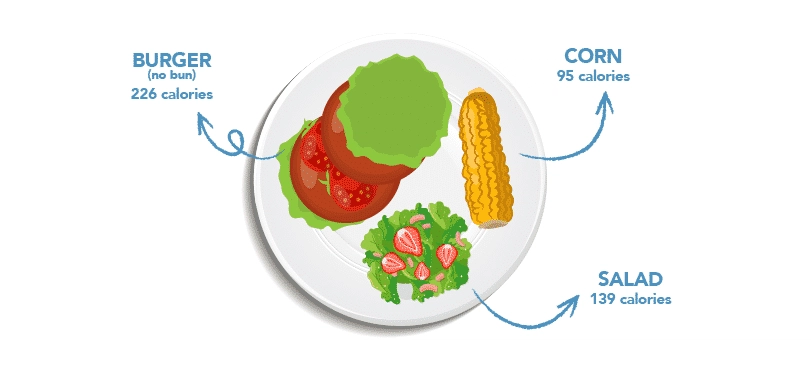 Perhaps the most classic American meal of all, a perfectly-grilled cheeseburger is undoubtedly a 4th of July favorite! Pair your burger with green salad and corn to round out your all-American meal.
What to put on your plate:
Skipping the bun on your hamburger saves over 100 calories and lots of refined carbs. Instead, opt for fruits (in the salad) and veggies to give you a quick burst of energy!
If you eat your bun-less burger with tomato, onion, ketchup & mustard and put a little bit of butter and pepper on that cob of corn, this filling meal totals up to 460 calories, 39g of carbs, and 37g of protein.
Bonus Tip: Spice your food with mustard and pepper to give it a little extra kick. Research shows that we eat less when food is slightly spicier, and both of these condiments are essentially calorie-free!
(2) Cheeseburger
Prefer the more cheesy route? For me, a burger isn't even worth eating if there isn't a slice of deliciously melted, sharp cheddar cheese on top. If you'll go for a cheeseburger this year, here are some popular sides to complete your healthy plate!
What to put on your plate:
1 cheeseburger (no bun)
½ cup of homemade coleslaw
½ of a medium baked potato
Complement the no-bun cheeseburger with half a cup of homemade coleslaw (or 1-2 cups of a leafy green salad) and half a baked potato with butter and pepper.
Spuds sometimes earn a bad reputation in the weight loss community, but baked potatoes are actually nutritious options. Like most things, it's all about moderation.
Potatoes are a great source of vitamin C, their skin is full of healthy fiber, and they have plenty of potassium as well. So, this is a great option if you're craving starch!
This healthy plate idea comes out to 500 calories, 33g of carbs, and 41g of protein.
Bonus Tip: Wrap your burger in leaves lettuce to make the bun-less burger more transportable! Lay a large leaf of lettuce flat, put your cheeseburger in the middle, add toppings, and then wrap it up and enjoy!
(3) Veggie Burger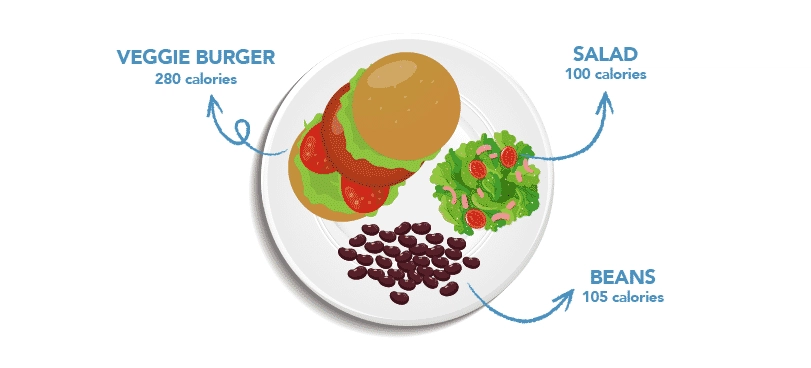 Do you follow a vegetarian diet, or want to cut down on calories even more? Consider a veggie burger! Instead of the 190 calories in a normal quarter-pound beef patty, a typical veggie burger rings in at just 130 calories.
Enjoy your meat-free patty on a whole-wheat bun, and then round out your meal with a couple of healthy, filling veggie sides!
What to put on your plate:
1 veggie burger (in a whole-wheat bun)
½ cup of low-sodium black beans
2 cups of garden salad
Top your veggie burger with tomato, onions, mustard, and ketchup for relatively few extra calories and plenty of added flavor! Choosing a whole-wheat bun gives you that extra boost of fiber (plus lots of great vitamins and minerals) to help keep you full and steady your blood sugar.
The side of black beans just adds more fiber and healthy protein. Opt for low-sodium beans if you can.
Fill the other half of your plate with a garden salad: lettuce, tomato, red onion, and a side of ranch. If you take it easy on the ranch (1 Tbsp), this meal comes out to 485 calories, 39g of carbs, and 28g of protein.
Bonus Tip: Go for black beans instead of baked beans this year. Black beans contain more protein and only a fraction of the sugar.
While a half-cup serving of baked beans contains 9g of sugar, the same size serving of black beans contains just 1g. Experts recommend just half of your discretionary calories come from sugar (about 100 calories per day), so minimizing sugars with easy substitutions is always smart!
(4) Hot Dog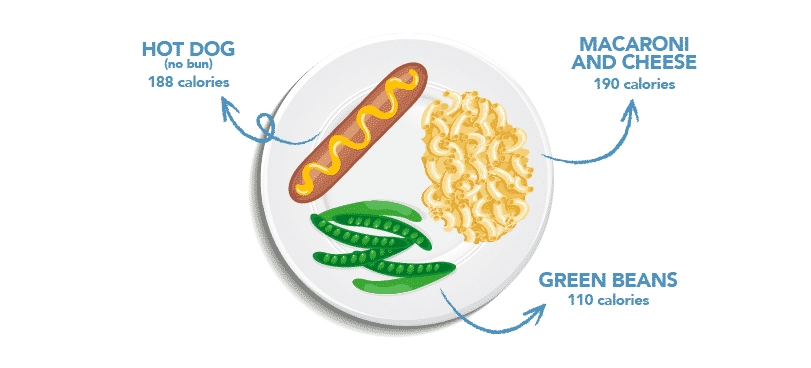 If you didn't think hamburgers were the most all-American meal, my bet is that you thought of a hot dog instead!
Hot dogs are high in sodium and processed meat, so they're not a great choice for your everyday diet, but that shouldn't stop you from eating one on special occasions if you love them.
What to put on your plate:
1 100% beef hot dog (no bun)
½ cup of macaroni and cheese
1 cup of green beans + 2 tbsp sliced almonds
If you'd rather indulge in a second hot dog (or a bun!) skip the macaroni and cheese. Whether you choose for your main, pair it with steamed green beans to fill you up and keep you full.
Adding a couple of tablespoons of almonds makes the beans taste more decadent while also boosting protein and healthy fats.
If you eat the hot dog without a bun, mac 'n' cheese, and green beans, this meal totals out to 488 calories, 38g carbs, and 19g protein.
Bonus Tip: Love macaroni and cheese, but are worried about carbs? Try cauliflower and cheese! This twist on the classic is still just as yummy but contains only a fraction of the carbs.
(5) Grilled Chicken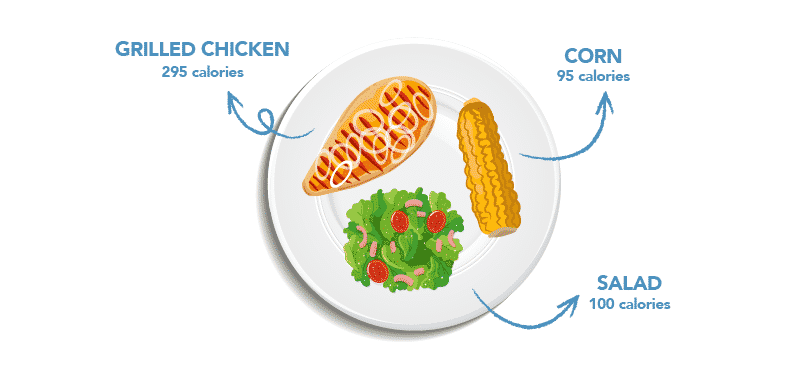 Not tired of grilled chicken yet? This meat has earned a reputation as a classic diet food for a reason – it's high in protein, low in fat, and carbohydrate-free.
If you're at a BBQ and they're serving grilled chicken, this meat is always a great protein to act as the centerpiece of your plate.
What to put on your plate:
1 grilled chicken breast, topped with BBQ sauce and onions
1 ear of corn
2 cups of garden salad
Top your grilled chicken with 2 Tbsp of BBQ sauce and a ¼ cup of sautéed onions. Pair it with an ear of corn and a half plate of garden salad (lettuce with tomato, red onion, and ranch dressing) to complete your meal.
This meal provides 490 calories, 57g of carbs, and 31g of protein.
Bonus Tip: Did you know that simply taking the skin off your chicken saves dozens of calories and several grams of fat? A chicken breast with skin has just over 190 calories and 7.6g of fat, while a skinless chicken breast has just 142 calories and 3.1g of fat.
(6) Pulled Pork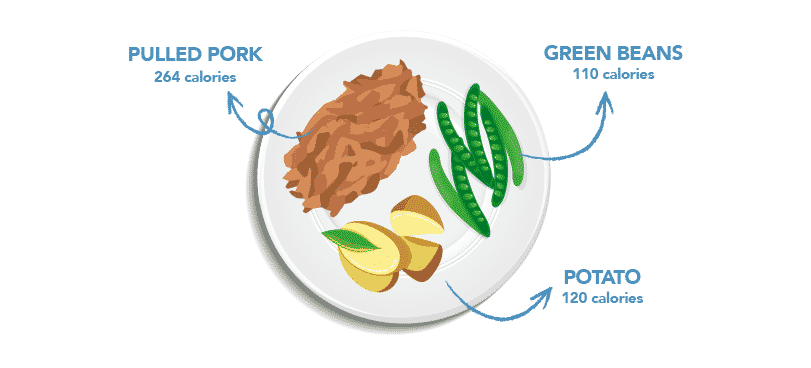 Having a traditional BBQ for the 4th this year? Pair your pulled pork with plenty of veggies and half a baked potato to fill you up and keep you full for hours to come!
What to put on your plate:
½ cup of pulled pork + ½ cup of caramelized onions
½ of a medium baked potato
1 cup of green beans
Your serving of pulled pork will provide about 216 calories and 14g of protein, so you'll have your protein and be able to focus on less calorie-dense foods for the rest of your healthy plate.
Grab half a baked potato and some green beans to round out your plate. The complete nutrition for this entire healthy plate idea is 494 calories, 61g of carbs, and 22g of protein.
Bonus Tip: If you're preparing the pork yourself, look for a slow cooker recipe for pulled pork tenderloin. Pork tenderloin is high in protein and low in fat compared to other cuts of pork, making it the best choice for a healthy pulled pork dish!
(7) Plate of Sides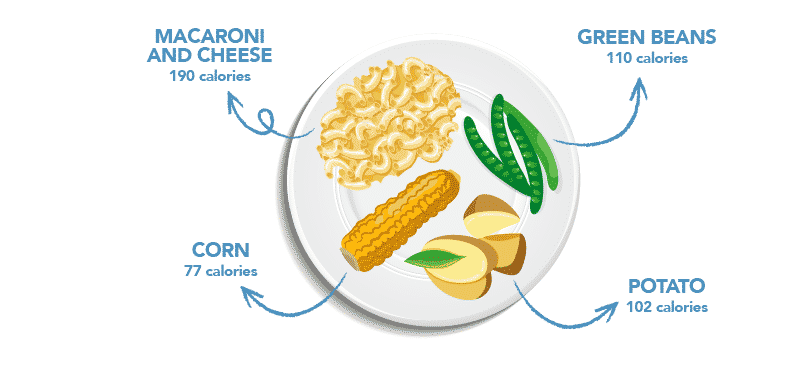 Not a fan of the meats? I love sides, so honestly, I'm just as happy to have a plate of sides instead of a serving of meat.
If you want to try ALL the sides but still stick with your calorie budget, consider skipping the main. Here's a delicious assortment of sides that still rings it at under 500 calories per plate.
What to put on your plate:
1 ear of corn
½ of a baked potato
1 cup of green beans
½ cup of macaroni and cheese
This plate nets out at about 480 calories, 64g of carbs, and 18g of protein. However, remember that these values can vary significantly depending on preparation – especially for homemade dishes like macaroni and cheese!
Since this meal isn't the highest in protein, make sure to balance it out later with a high-protein dinner or drink a shake later in the day.
Bonus Tip: Instead of pouring the dressing on top of the salad, serve your ranch on the side and then dip your fork into the dressing before taking a bite of the salad. You'll still get all of the taste of the dressing, but you'll end up using much less.
(8) Taco Salad
Taco salad is a much-loved main dish throughout the southwest US, and it's a great option for your 4th of July picnic as well! Make this simple salad to share and enjoy at your next cookout.
What to put on your plate:
What goes in a healthy taco salad? Here's a sample recipe:
Ingredients
5 cups iceberg lettuce
½ cup tomato, chopped
½ cup low-sodium black beans
2 tbsp cup low-fat shredded cheese
1 grilled chicken breast (no skin), cooled and cubed
¼ avocado, chopped
1 tbsp ranch dressing
Directions
Wash and dry lettuce.
Combine all ingredients (except dressing) in a bowl and toss well.
Serve immediately with dressing on the side.
(9) Quinoa Salad and Chicken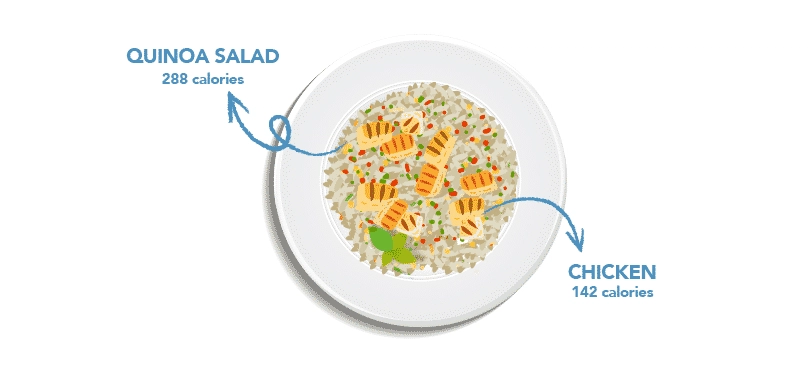 Are you a quinoa lover? This gluten-free, high-protein grain has gained an impressive following in the last few years, and with good reason! Quinoa is a great base for any primary or side dish.
Serve this cool, refreshing salad with grilled chicken breast for an easy and healthy 4th of July food idea.
What to put on your plate:
1 serving of quinoa salad
1 grilled chicken breast
Here's the recipe for this refreshing and easy summer quinoa salad:
Ingredients
1 cup quinoa (measured raw and then cooked)
1/2 of red onion, diced
1 cucumber, chopped
2 bell peppers, chopped
2 tbsp olive oil
3-4 tbsp balsamic vinegar
salt and pepper (spice) to taste
Optional: 1/4 cup feta cheese, crumbled
Directions
Measure out 1 cup of quinoa. Cook according to package instructions and then let cool.
Mix together olive oil, balsamic vinegar, salt, and pepper in a small bowl. Set aside.
Combine vegetables and quinoa in a medium bowl. Add liquid mixture and stir well.
Gently stir in feta cheese crumbles, if desired.
Let stand for at least 20 minutes before serving.
If you serve 1/4 of the yield of this recipe with one grilled chicken breast, your healthy plate will give you: 430 calories, 38g of carbs, and 35g of protein.
(10) Patriotic Parfaits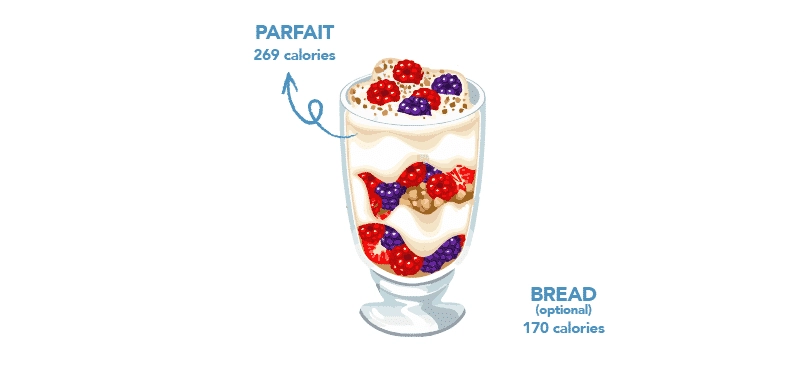 Headed to, or hosting, a 4th of July breakfast or brunch instead? Consider some cute and healthy patriotic parfaits! These red, white, and blue treats are filled with protein-filled Greek yogurt and antioxidant-rich berries.
If you're looking for a more substantial meal, serve it with a toasted whole-wheat English muffin.
What to put on your plate:
1 cup of nonfat, plain Greek yogurt
1 cup of berries + 2 Tbsp of sliced almonds
1 whole-wheat English muffin
Using the ingredients above, here's how to make your patriotic parfait:
Pour one-third of the yogurt into a clear bowl or glass
Add half the blueberries
Pour in another one-third of the yogurt
Add half the strawberries
Pour in the final third of the yogurt
Top your parfait with the remaining berries and the almonds
Enjoy!
Serve with a toasted, whole-wheat English muffin and a pat of butter to make your meal a little more substantial. Altogether, this breakfast has 439 calories, 55g of carbs, and 33g of protein.
If you skip the English muffin, the parfait alone has 269 calories, 29g of carbs, and a little over 27g of protein.
Bonus Tip: To make your parfait extra festive, prepare it in a clear glass or bowl! If the plain yogurt is too bitter for you (or the kids), sweeten it slightly with a teaspoon of honey or maple syrup.
Even with added sweetener, your parfait will still have less sugar than a similar parfait made with flavored yogurt!
What are you planning for this 4th of July? Share your meal ideas and thoughts with us in the comments sections below!