8 Healthy Things to Do On Valentine's Day
Valentine's Day is popular for chocolate, sweethearts, and gourmet dinners, but it's not all about what we eat.
It's really about celebrating our love for the special people in our lives – partners, family, friends, and, of course, ourselves!
While sweet treats may be heart-warming, all of the celebrating can seem a little overwhelming when you're working hard to lose weight.
So, here's our early gift to you! Check out these eight fun things to do on Valentine's Day if you're looking to show your love in a healthier way this year.
1) Cook Dinner at Home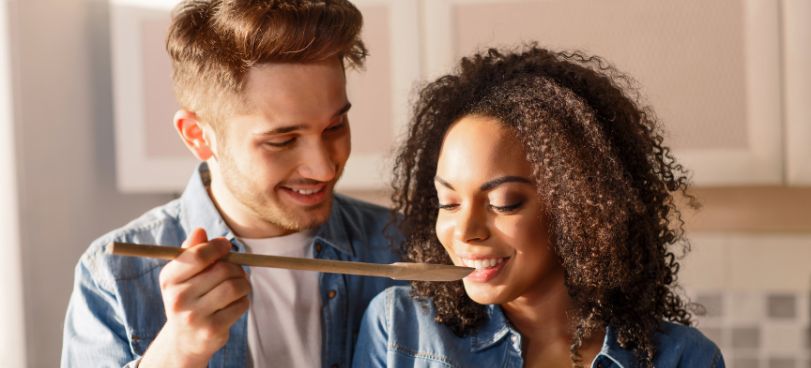 Cooking dinner together is one of the most overlooked things to do on Valentine's Day! Eating often means thousands of calories in food and drinks, not to mention loads of salt and sugar.
If you love sharing romantic meals with your sweetie but don't want to derail your diet, plan a festive dinner at home!
This can really go one of two ways: cutesy, heart-shaped food or an elegant, romantic dinner. Depending on who's coming – kids, adults, a girlfriend/boyfriend, or a spouse – you can adjust the mood as appropriate.
No matter what you go with, the internet has graced us with thousands of great ideas for your celebratory meal!
By cooking at home, you'll maintain control over what goes in, on, and around the food, which allows you to make even the most decadent dishes healthier.
Prepare a Themed Dinner
Ready for a cute, easy meal filled with plenty of red & pink heart-shaped foods? This one is sure to be a hit with kids and fun-loving adults alike.
Here are some healthy ideas for your Valentine's Day bash:
Red & Pink Fruit Salad: Peel and chop up a grapefruit, 2 oranges, and 2 bananas. Wash, trim and chop a pound of strawberries. Wash a pint of raspberries. Combine all of the fruits in a bowl. Serve immediately or refrigerate for up to 3 days (we love leftovers!).
Heart-Shaped Pancakes: If you're making a fun breakfast, whip up some whole-grain pancakes in the shape of hearts. Mix in fresh or frozen berries to give the pancakes a festive color, and then pour the batter into a heart-shaped cookie cutter on the skillet.
When the pancake is ready to flip (when it has little bubbles), take the cookie cutter off. To keep it healthy, top cooked pancakes with more berries or a sprinkling of powdered sugar instead of the traditional, calorie- (and sugar-) laden maple syrup.
Heart-Shaped Personal Pizzas: If your special meal is a lunch or dinner, buy pre-made, whole wheat pizza dough (or make your own!) and split it up into personal portions. Let each person roll out their dough and shape it into a heart. Bake for ~10 minutes, and then take the crusts out and put on toppings.
Make sure to offer lots of veggies (chopped tomatoes, baby spinach, mushrooms, sliced olives) and a healthy tomato sauce. Some sauces are high in sugar and sodium, so make sure to read the label and go for a "light in sodium" or "low sodium" variety if you have the chance!
Also, try to use cheese sparingly. It's high in calories and fat, so think of it more of as a delicious flavor than something to drip off your pizzas.
Chocolate-Covered Strawberries: This traditional Valentine's Day dessert is relatively healthy and fun to make! Wash and dry a pound of fresh strawberries.
Cover a cookie sheet with wax paper. In a microwave-safe bowl, put about 1 cup of dark chocolate or semi-sweet chocolate chips + 1 tablespoon of skim milk.
Microwave in 30-second intervals, stirring the chocolate between each blast until your chocolate is smooth and melted.
Do NOT try to save time by microwaving in longer intervals – the chocolate burns very easily. While the chocolate is still warm, dip each strawberry into the chocolate and then place it on the prepared cookie sheet. Chill for about one hour or until the chocolate hardens. Enjoy!
Prepare a Romantic Dinner
Thinking of something a little more elegant for this special occasion? Cooking dinner at home provides a great opportunity to give some of your favorite dishes a healthy makeover!
Whether you're making meat, pasta, veggie, or seafood dish – there are lots of ways you can make it healthier.
Here are a few easy changes to get the ball rolling:
Cut down on salt and sugar. Halve (or reduce) the salt and sugar in your favorite recipes to lighten them up. One group of researchers found that most people can't even tell the difference when you halve the sugar in their favorite baked goods!
Use whole-grain pasta, whole-wheat bread, or brown rice instead of white grains. This will add some healthy fiber to help fill you up, stabilize blood sugar and keep you full longer.
Slash the fat in your favorite dishes. Substitute applesauce (or smashed bananas) for half of the butter in your baked goods, use fat-free or low-fat dairy products (e.g., evaporated skim milk) or pick a lower-fat preparation (e.g., steaming vegetables instead of sautéing them in butter).
Remember MyPlate. Fill half of your plate with non-starchy vegetables or fruits, one quarter with whole grains, and one quarter with lean protein. By filling half of your plate with lower-calorie veggies instead of heavier grains or meat, your meal is already on its way to healthy!
For more ways to make your favorite dishes healthier, check out the American Heart Association's advice for healthy substitutions!
2) Plan a Getaway
Apart from a romantic dinner, a quick getaway is probably one the most common things to do on Valentine's Day (or the weekend before). And for good reason!
There are few things better than getting away from it all with your beloved and enjoying some stress-relieving time together.
If you're trying hard to lose weight, this is an especially promising idea. Instead of a food-centered activity like dinner, a getaway revolves around the experience of spending time together.
So, a quick getaway is a great way to celebrate in style without jeopardizing your hard-earned healthy habits.
3) Enjoy a Romantic Stroll
Sometimes the simplest things are the best things to do on Valentine's Day. Don't have time for an elaborate getaway but want to spend some quality time together this week?
Use Valentine's Day as an excuse to get out of the house and enjoy some peaceful nature time with your sweetie. Whether you head to a nearby trail for a hike, a picturesque boardwalk, or just down the block in your neighborhood, you'll get some alone time to talk and bond.
Best of all, you'll also be getting your steps in and working towards your weight loss goals!
4) Dive Into D.I.Y. Night
Do you and your significant other like doing crafty stuff together? Or have an imaginative kid? Maybe creating something together should make your list of things to do on Valentine's Day!
Here are a few ideas to get your creative juices flowing:
* Staple paper strips into a heart-shaped garland for festive decoration
* Make homemade Valentine's Day cards for your friends & loved ones
* Decorate a special photo frame for a special someone
* Paint a birdhouse just in time for the birds' return this spring
… Or any of these other easy Valentine's Day craft ideas!
5) Try Something New & Different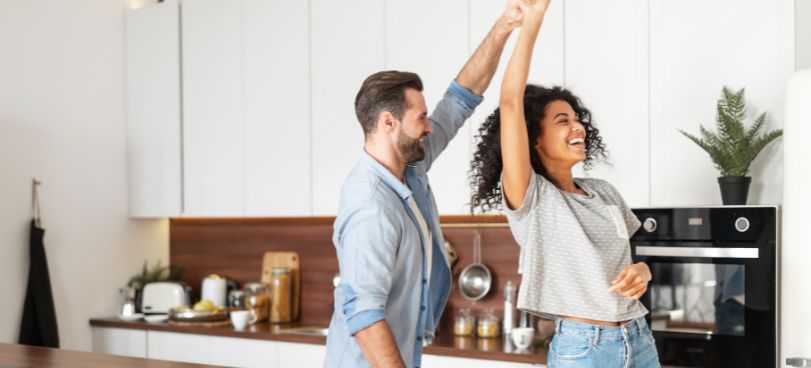 Have you two been dying to check out that new art gallery? Or try ziplining? Or learn how to throw pottery?
You've just found yourself a great date idea! Instead of splurging on a fancy meal, spend that same money on trying something new and different.
The novel experience will be exciting for both of you and give you lots to talk about besides food, work, and chores.
Need a little encouragement to step outside your comfort zone? Sign-up for a fun class! Whether it's cooking, dancing, poetry, robotics, or pottery, an open class will give you some structure in your new activity.
Many places have Valentine's Day specials on classes, so check out your favorite local spots or browse an online coupon service (like Groupon) to find the best deals near you!
6) Share the Love
Is there a cause that you and your sweetheart are both passionate about? Share your love with more than just each other.
Consider volunteering for Valentine's Day this year! Hang out with the rescued animals at a local shelter, serve meals at your neighborhood soup kitchen or get involved with your favorite charity's next event.
Volunteering is a great, non-food activity to spread love this season. If you have kids, Valentine's Day volunteering also provides a great opportunity to teach them about giving back!
7) Have a "No Phones" Evening
Do you feel like one or both of you is always attached to your phone? Want to get away from it all? How about a "no phones" night?
This has become an increasingly popular date night idea as our lives have collectively grown crazier and crazier.
Reducing stress has also been shown to help weight loss, so unwinding in a productive way can actually help you lose more fat.
Take a few hours and let yourselves disconnect to enjoy each other's company. Head outside and stargaze, or stay indoors and cuddle on the couch.
It's not as much about what you do as it is about spending it together… and without phones. Ditching your phones is also a great idea to combine with another activity (e.g., cooking dinner at home or taking a class) to enjoy each other's fully-present company.
If you need to have your phones on you because you're expecting an important call, just put your phones aside and make it a point not to reach for them unless that call comes in.
8) Agree on Non-Food Gifts
Last but not least, chat with your friends and family about gifts when you're discussing things to do on Valentine's Day this year.
If they don't already know, share with them that you're trying to watch what you eat and would prefer non-food gifts this year. Agree to give them non-food gifts as well.
Gifts exist in every price range that doesn't involve food – you just need to ask (and maybe draw on a touch more creativity).
Through having this conversation ahead of time, you can joyfully and wholeheartedly partake in gift exchanges without undermining your weight loss efforts!
… Or Ask For Dark Chocolate
If you can't fathom Valentine's Day without chocolate, go for dark chocolate with at least 70% cocoa.
It contains less fat than milk or white chocolate and more of the beneficial antioxidants & minerals in found naturally in cocoa.
Still, dark chocolate contains plenty of fat and calories, so limit yourself to no more than about one ounce per day. Check out your candy's packaging and nutrition label to see how much one ounce amounts to in your particular brand.
What are you planning for the 14th this year? Do you have any fun ideas for things to do on Valentine's Day? Share with us in the comments section below!