Healthy Holiday Snacks and Treats
Welcome to December! This month is full of celebrations: holiday parties, drinks with friends and family meals. However, alongside the joy and festivity, a full social calendar often causes some level of anxiety for people trying to lose weight. Between the savory snacks, special drinks and decadent deserts it's easy to exceed your entire weekend's calorie budget in a single night. So, how do you balance enjoying the festivities with prioritizing your health? One great option is to buy and make healthy holiday snacks and treats that you and your loved ones can enjoy all month long without feeling guilty!
Healthy Holiday Snacks from the Store
Looking for some decadent healthy holiday treats you can pick up from the supermarket? Enjoy all the festive holiday flavors without adding inches to your waistline when you dig into these divine, store-bought snacks:
Gingerbread House Ice Cream (Halo Top)
Halo Top's seasonal gingerbread ice cream is a cult favorite. Packed with ginger cookie bits and swirls of vanilla icing, this spicy & sweet desert is sure to bring out your Christmas spirit!
Best of all, this Gingerbread House ice cream only has 90 calories and 7g of sugar per half-cup serving. That's nothing compared to your average serving of Ben & Jerry's, which delivers around 275 calories and 14g of sugar.
If you love a good scoop of ice cream even when there's snow on the ground, make sure to grab a pint of this healthy holiday snack from your local grocer!
Boom Chicka Pop Lightly Sweet Popcorn (Angie's)
Is a big tin of flavored popcorn a holiday staple in your house? At 130+ calories per cup, this traditional treat can quickly consume your daily calorie budget. This year, swap-out the kettle corn, cheese popcorn and other flavors for a less-sweet, but equally delicious, pre-popped popcorn.
Check out Angie's Boom Chicka Pop Lightly Sweet Popcorn. It only has four ingredients and just 37 calories per cup. Plus it comes pre-popped in a bag, so you can easily throw it into a festive holiday tin if you feel inspired to share the healthy cheer!
Prefer fresh-popped popcorn? Try air popping yourself (here's how)! If you don't have a stove or prefer the convenience of microwave popcorn, opt for PopSecret Homestyle Popcorn or Act II Lightly Buttered.
Peppermint Pretzel Slims (Trader Joe's)
Fan of the salty-sweet combo? Trader Joe's Peppermint Pretzel Slims are a must-have for your December shopping list.
These healthy holiday treats are the chain's traditional pretzel thins dipped in white chocolate and sprinkled with peppermint candy. They are a more diet-friendly alternative to traditional chocolate-dipped pretzels, but that doesn't mean you should eat a whole bag in one sitting. These snacks have 140 calories, 6g of fat and 13g of sugar per one serving of 4 pretzels.
If you don't live near a Trader Joe's, Snack Factory makes a similar product called White Chocolate & Peppermint Pretzel Crisps that you can buy at Target.
Gingerbread Fruit & Nut Bar (Larabar)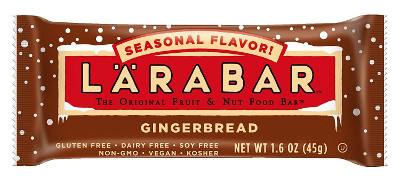 If you're working hard to eat more real foods and less processed junk, Larabars are the snack bar for you. They sell a whole line of fruit and nut bars made with only real, easy-to-pronounce ingredients. And, lucky for you, they have a seasonal gingerbread bar!
The Gingerbread Larabar contains only eight ingredients and has 190 calories per serving. This bar has 4g of protein and is a great snack or breakfast bar for the whole-food conscious.
Seasonal Fruits & Vegetables
The healthiest winter snack of all? Seasonal fruits and vegetables!
Many people think of summer as the season for fresh fruits and vegetables, but there are plenty of delicious produce options in the winter too. Try one of these as a healthy holiday snack, side or ingredient:
Apples
Beets
Broccoli
Brussel sprouts
Cabbage
Carrots
Cauliflower
Clementines
Cranberries
Kale
Pears
Radishes (Daikon)
Sweet potatoes
Winter squash
Sugar Cookie Sleigh Ride Tea (Celestial Seasonings)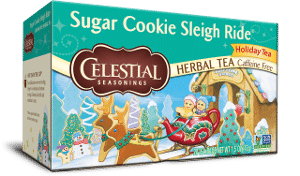 Want to enjoy a warm, seasonal drink this holiday season? Most Starbucks holiday drinks ring in at 400-500 calories for a grande, so they aren't exactly diet-friendly. Lucky for you, seasonal teas are a great, festive-tasting option that won't undo your hard work!
One of my personal favorites is Celestial Seasonings' Sugar Cookie Sleigh Ride tea. It's a sweet, gentle herbal tea that, as the name suggests, tastes like sugar cookies.
If you'd prefer a caffeinated drink, check out Celestial Seasonings' Nutcracker Sweet or Gingerbread Spice teas, both of which are based in black tea. All teas, no matter how festive, are calorie-free.
Holiday Nog (Califia Farms)
Christmas isn't Christmas without the eggnog. If you love this traditional holiday drink but the calories and fat in homestyle eggnog make you nervous, opt for plant-based nog instead.
Califia Farms' Holiday Nog is almond milk-based, which makes it significantly lower in calories and fat than homestyle eggnog. At just 50 calories and 1.5g of fat per half-cup serving you can enjoy all the "eggnog" without any of the guilt! Plus, this brand of holiday nog consistently receives rave reviews from taste testers, even in comparison to dairy-based options!
Prefer to stick with traditional eggnog? A homestyle eggnog has about around 200 calories and 10g of fat per half-cup serving, but you can make this traditional drink lighter by cutting it with nonfat milk. Mix ¼ cup skim milk with ¼ cup eggnog to dramatically reduce calories and fat and make it a healthi(er) holiday snack. They also sell "light" eggnog that is significantly lower in calories and fat.
Homemade Healthy Holiday Snacks
Prefer to cook a little love into a special holiday snack for you and your loved ones? You can whip up one of these easy, healthy holiday treats in under 30 mins and enjoy them all season long!
Apple Crisp
Apple crisp is a classic summer desert, but it's also a lightened-up alternative for Christmas pie. Apple-based dishes are ideal for this time of year because apples store well and are still relatively-fresh from the fall harvest.
Apple crisp is a great option because it is simple and healthy as compared to other baked deserts and it's easy to adapt to all kinds of diets: gluten-free, vegan, or heart-healthy. Plus, it's short ingredient list and quick, easy preparation make it a crowd favorite.
No family apple crisp recipe? Check out this lightened-up version from Ambitious Kitchen.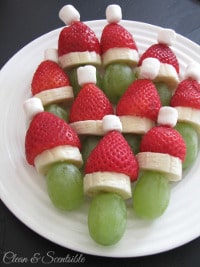 Grinch Fruit Kabob
These Grinch fruit kabobs from the Clean and Scentsible blog are a great appetizer or desert for your next party, no matter if you're hosting adults or children. They're festive and 90% fresh fruit, making them a wonderful healthy holiday treat!
To recreate the snack pictures here, stack a mini marshmallow, small strawberry (with the top cut off), a slice of banana and a green grape (skewered lengthwise) on a wooden toothpick. The final product is a mini Grinch head with Santa's hat.
Best of all: these healthy holiday snacks are as nutritious as they are festive!
Spinach Balls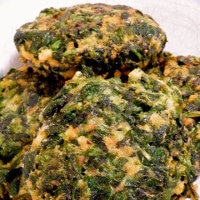 Feeling like there's lots of red and green everywhere except your plate this month? Whip up a batch of spinach balls to fix that problem. These are great to serve as a appetizer, snack or side and freeze well so they're easy to prepare ahead of time if you need a make-ahead healthy holiday treat.
Mix one box of frozen spinach (defrosted and drained), 1 cup of bread crumbs, ¼ – ½ cup parmesan cheese, ¼ cup butter, 2 eggs (or 3 egg whites), black pepper and a sprinkle of Italian herbs in a medium mixing bowl until well-combined. You can also add half an onion (finely diced) if you would like. Once combined, use your hands to roll the mixture into golf ball-sized balls and place them on an ungreased baking sheet. Bake at 425ºF for 20-30 minutes or until golden brown.
Make your appetizer extra-festive by serving the green spinach balls with a red marinara sauce! If you're watching your carb or sugar intake, you can make the sauce at home to avoid all the added sugars in store-bought sauce.
Veggie-Stuffed Mushrooms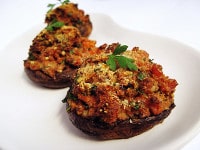 Stuffed mushrooms are another food that feels fancy and festive, but these healthy holiday snacks are packed with lots of healthy nutrients like protein, vitamins and fiber.
Stuffed mini mushrooms are a good alternative to cheese and crackers at your next party or, if you stuff lager mushrooms (such as portobellos), they can make a great lunch or dinner!
Not sure what to put in your mushrooms? Check out Taste Love & Nourish's delicious recipe for Vegetable Stuffed Mushrooms!
✨ Do you have a favorite healthy holiday snack or treat? Share it with us in the comments section below!