Healthy Comfort Foods You'll Want to Dig Right Into
Winter is well and truly here. And if there's one thing that makes us want to dive head-first into a bowl of cheesy pasta, it's miserable cold, grey weather.
However, it is possible to turn your winter favorite into healthy comfort food with a few ingredient switches. Here we give you seven great ideas for warming dishes that won't ruin your weight loss plan.
Vegetable Lasagna
Lasagna can pack in the calories with its combination of creamy sauce, cheese, meat, and pasta.
But you can turn your lasagna into healthy comfort food with these handy swaps!
You can start saving calories by making the ragu sauce with more veggies and less meat; mash fresh plum tomatoes, red peppers, and any other veggies you like, and mix in minced turkey in place of beef, or skip the meat and use soy mince or extra veggies instead.
Use whole-grain pasta sheets to benefit from the fiber and nutrients in slow-release carbs. Or skip the pasta sheets altogether and use slices of eggplant to build the layers.
Make your own béchamel sauce using this recipe with olive oil and non-fat milk. Lastly, low-fat mozzarella is great as the topping. Super comforting, tasty, and a great way to eat more vegetables!
Lentil Stew
Skipping the meat saves you tons of calories, although lentils keep this healthy comfort food filling and protein-packed.
To make the base, cook a small finely chopped onion and a little finely chopped garlic in a little olive oil, season, and leave to simmer for a couple of minutes to soften.
Roughly chop the veggies you plan to use – we prefer butternut squash, sweet potato, eggplant, and zucchini, but whatever you have at home can work.
You need about a cup of each of these; add another two tablespoons of olive oil to the pot, then put the veggies in and cook for about seven minutes.
Mix up a jug of vegetable stock and pour it over the vegetables, just enough to cover everything but no more. Add one or two medium-sized potatoes, peeled and chopped, then a dash of soy sauce for flavor.
Cover the pot and leave it to simmer for 15-20 minutes then, when the vegetables are nicely softened, add a large jar of cooked lentils. Cook for a further five minutes, then serve.
And, not only is this delicious served straight away, but it also keeps really well in the fridge for a few days.
Chili
With a spicy hit to boost your metabolism, chili is great during these colder months. But, to make this winter warmer a healthy comfort food that's also lower in calories and saturated fat, switch beef mince for turkey mince.
Or you can skip the meat altogether and add more beans or tempeh for a vegetarian version. This turkey mince version is super easy to follow – just add brown rice or quinoa and serve.
Or, we also like this recipe for alternative serving suggestions (chili pie or carb-free Sloppy Joes, anyone?), great topping ideas, and vegetarian versions. Why not try both recipes and tell us which you prefer!?
Protein Hot Chocolate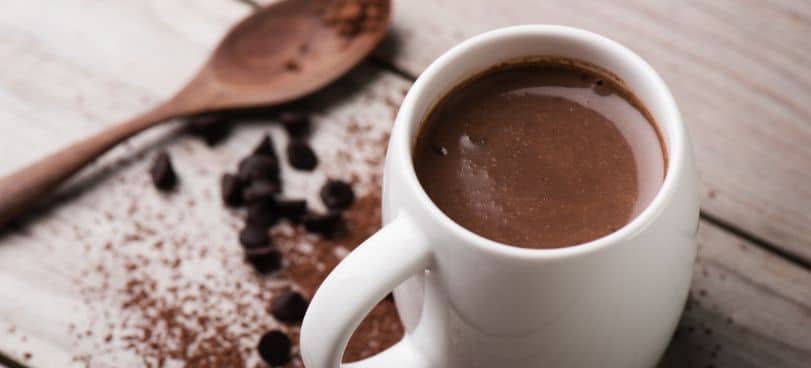 A cup of cocoa is perfect at this time of year, but hot chocolate can really pack in the sugar and calories.
So, what better way to keep your hot chocolate healthy than by making it with chocolate protein powder?!
Not only are you saving calories, but you're also getting a protein boost with this healthy comfort food swap. As this delicious but healthy recipe shows, it's also really easy – only three ingredients needed! And it's also suitable for vegans too.
Combine chocolate protein powder (casein or brown rice powders are best), granulated sweetener, and cocoa powder, mix in some boiling water, and you're good to go!
Tuscan Bean Soup
Healthy comfort food doesn't come better than a steaming bowl of tasty soup. For a low-calorie but super-warming dish that's also really affordable, the Chiappa's Tuscan bean soup ticks all the boxes.
Starting with a base of red onion, celery, and carrot. Add chopped tomatoes, tomato puree, and vegetable stock, season, and leave to simmer.
Blend half of the mixture, then add it back to the pot to create a soup combining smooth and chunky textures. Add borlotti beans (also known as cranberry beans), cannellini beans, and pasta to finish off this hearty soup!
Apple Cinnamon Oatmeal
For a warming breakfast or a healthier spin on apple pie, try this winter oatmeal recipe. Cook your apples first by following this recipe, which is enough for about four servings.
Cook your oats as you like them and spoon them on top of the warm cinnamon apples. What better way to coax yourself out of bed on a cold winter morning?!
Cauliflower Pizza
If you're following a low-carb diet, then you're probably having deep crust dreams most nights. But, this recipe could be the answer to your pizza prayers! The base is made from cauliflower, low-fat mozzarella, and a little parmesan bound together with an egg.
So, not only is it carb-free, but it also contains protein too! Once you've cooked the base, spread on your tomato sauce and top it with whatever you like.
Of course, veggies and low-fat mozzarella pack in the least calories, and maybe add pineapple if you're feeling exotic!
Do you have any tricks to make your favorite comfort foods more diet-friendly? Let us know by commenting below!