5 Healthy Brunch Ideas for Mother's Day (or Any Day!)
Mother's Day is a special day each year dedicated to celebrating moms, their love, and their accomplishments. Like with many other holidays, we love to celebrate with food!
And that's where it can get tricky if you're trying to lose weight.
A relaxing breakfast in bed, a beautiful brunch, or a fun family dinner all now involve navigating how to enjoy the day while still sticking to your hard-earned healthy habits.
Whether you're cooking a special meal for the mom in your life or just searching for tasty weekend breakfast ideas, you've come to the right place!
We'll give you some ideas for what to cook (and eat) this weekend and tips for navigating the menu in case you're planning a celebratory meal out.
Keys to a Healthy Meal
As you know, a big part of your weight loss journey involves establishing healthy habits around food and exercise.
Remember, you should always aim to include a little from each food group in each meal, as shown on MyPlate. The goal should be:
1/2 plate fruits and veggies: green or fruit salad, steamed veggies, unsweetened applesauce, etc.
1/4 plate whole grains: whole-wheat bread or pasta, brown rice, corn, etc.
1/4 plate lean protein: lean meat/poultry, fish, tofu, beans, etc.
When you're preparing your Mother's Day meals, try to keep these guidelines in mind to make your healthiest plate possible!
Brunch Ideas for Mother's Day
Scroll through the ideas below to find delicious recipes for your special meal this weekend.
From flavorful egg dishes to made-over blueberry waffles, we have the recipes you'll need to enjoy a flavorful, fun, and healthy treat this Mother's Day weekend!
1. Parfait (Yogurt Sundae) Bar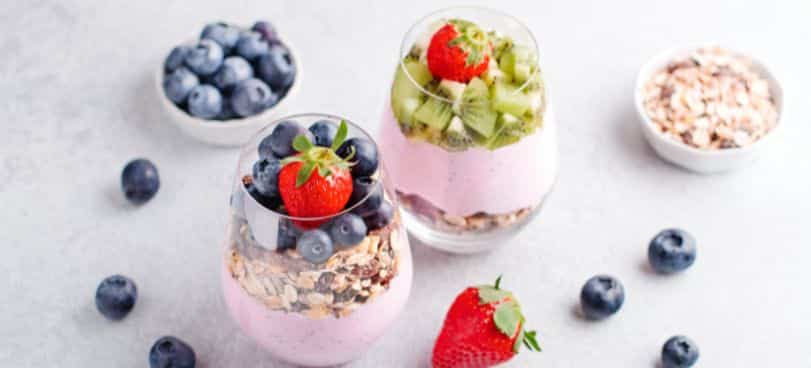 For the DIY-lover
Makes 4 servings
Ingredients
1 24-oz container of plain, vanilla, or strawberry yogurt
3 cups of berries (or your favorite fruit!)
1 cup toasted, chopped almonds, walnuts, or pecans
Optional: ½ cup semi-sweet chocolate chips (as garnish)
Optional: 2 bananas, sliced
Preparation
Place all the ingredients in separate bowls with their own spoons. Place 4 empty bowls or large glasses on the table.
Spoon about ¼ cup yogurt into the bottom of one of the empty, and then add 3-4 spoonfuls of your first topping (fruit or nuts, or both!) on top.
Add another ¼ cup of yogurt, then another few spoonfuls of topping. Finally, add one more ¼ cup of yogurt, and then garnish the top of your parfait with a little bit of chocolate, banana, or more berries. Enjoy!
Pro Tip: For the healthiest parfait, go for plain yogurt with fresh fruit and a few chopped nuts as toppings. To make the recipe fat-free, use only fruit and yogurt.
Nutrition Facts (depending on ingredients): Calories: 260-450, Total Fat: 16-23g, Carbohydrates: 19-49g, Protein: 11-13g
2. Whole-Grain Blueberry Waffles
For the mom with a sweet tooth
Makes 6 servings
Ingredients
1 cup whole-wheat flour
1 cup all-purpose flour
1 teaspoon salt
1 tablespoon + 1 teaspoon baking powder
1 tablespoon white sugar
1 teaspoon cinnamon
2 eggs (or 4 egg whites, or ½ cup egg substitute)
1½ cups warm skim milk
3 tablespoons butter/margarine, melted
1/8 cup unsweetened applesauce
1 teaspoon vanilla extract
½ cup fresh blueberries
Directions
Turn on the waffle iron to preheat.
In a large mixing bowl, combine flour, salt, baking powder, sugar, and cinnamon. Set aside.
In a medium bowl, beat together eggs, milk, butter, applesauce, and vanilla.
Pour wet ingredients into the bowl with the dry mixture and stir until combined.
Fold in blueberries. Do not overmix.
Ladle about 1/6 of the batter into the waffle iron. Cook until golden brown.
Pro Tip: Serve with scrambled eggs/egg whites or low-fat plain yogurt or cottage cheese to add a little bit of protein. To reduce sugar intake, top waffles with more fresh fruit or fat-free yogurt instead of syrup.
Nutrition Facts: Calories: 266, Total Fat: 7g (2g sat fat), Carbohydrates: 41g, Protein: 10g
3. Veggie Frittata with Ham
For the fancy egg lover
Makes 6 servings
Ingredients
4 oz mushrooms, cleaned and sliced
1 small onion (or ½ of a large onion), diced
10 oz frozen chopped spinach, thawed and squeezed dry (tip: roll and press in paper towels)
1 medium tomato, thinly sliced
½ cup deli ham, coarsely chopped
7 eggs + 5 egg whites (or 2.5 cups of egg substitute)
¼ skim milk
¾ cup cheddar cheese, shredded
½ tsp salt
¼ tsp pepper (a pinch)
Directions
Preheat the oven to 350°F. Using cooking spray or olive oil, grease a 6-muffin tin (or one 8-in pan). Set aside.
Spray a medium saucepan with cooking spray or lightly coat it with oil. Over medium heat, sauté together onion and mushrooms. Cook for 5-7 minutes or until vegetables are cooked to your liking. Remove from heat.
In a medium bowl, whisk together eggs, egg whites, milk & yogurt, salt, and pepper.
Add cheese, spinach, and vegetable mixture to eggs. Combine well.
Pour egg mixture into greased muffin tin (or pan). Arrange tomato slices on top of the egg mixture in a single layer.
Bake for 14-17 minutes or until eggs are set but not brown. Enjoy with a small salad for brunch.
Pro Tip: Check the eggs about 5 minutes before they're "supposed to" be done. You want to avoid overcooking the eggs because it would give them a rubbery texture. Try serving frittata with a side salad to get in even more veggies this Mother's Day.
Nutrition Facts: Calories: 232, Total Fat: 14g (6g sat fat), Carbohydrates: 7g, Protein: 21g
4. Healthy Breakfast Tacos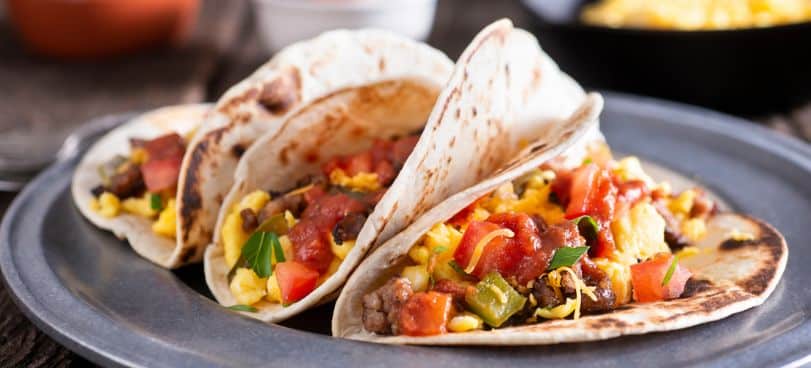 For the mom with a southwestern flair
Makes 4 servings
Ingredients
4 eggs + 4 egg whites (or 2 cups of egg substitute)
1 tbsp skim milk (water works too)
½ tsp salt
¼ tsp pepper (a pinch)
8 small (6") corn or flour tortillas
½ can of black beans, rinsed and drained
1 cup salsa
1 avocado, diced
1 cup cheese, shredded (Mexican blend, cheddar, Colby jack, pepper jack, etc.)
Directions
In a medium bowl, whisk together eggs, milk, salt, and pepper. Pour into a medium pan and scramble over medium/medium-low heat.
Pour the beans into a small bowl and microwave for 1 minute or until warm.
Assemble all ingredients into tacos! Each person gets two tacos.
Pro Tip: If you're using corn tortillas, have each person microwave their tortillas for 10-15 seconds before assembling their tacos. It will make the tortillas softer.
Nutrition Facts (for 2 tacos): Calories: 436, Total Fat: 25g (10g sat fat), Carbohydrates: 37g, Protein: 26g
5. Breakfast Quinoa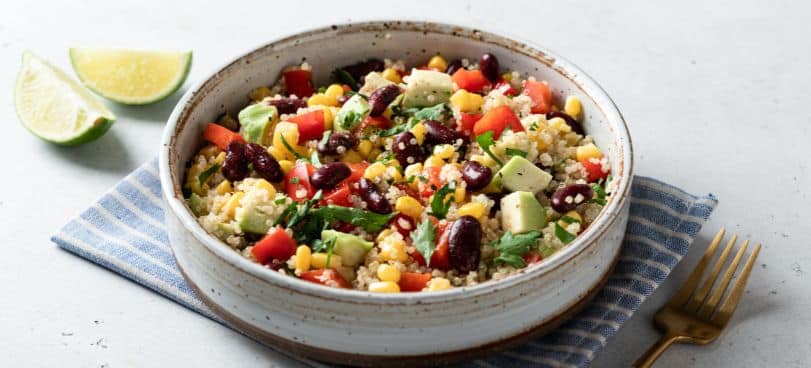 For the mom that loves hot cereals
Makes 4 servings (recipe originally from Cooking Light)
Ingredients
1/2 cup uncooked quinoa
3/4 cup light coconut milk
2 tablespoons water
1 tablespoon light brown sugar
1/8 teaspoon salt
1/4 cup flaked unsweetened coconut
1 cup sliced strawberries
1 cup sliced banana
Directions
Preheat the oven to 400°.
Place quinoa in a fine sieve (strainer), and place the sieve (strainer) in a large bowl. Cover quinoa with water. Using your hands, rub the grains together for 30 seconds; rinse and drain the quinoa. Repeat the procedure twice. Drain well.
Combine quinoa, coconut milk, 2 tablespoons of water, brown sugar, and salt in a medium saucepan, and bring to a boil. Reduce heat, and simmer for 15 minutes or until liquid is absorbed, stirring occasionally. Stir the mixture constantly during the last 2 minutes of cooking.
Optional: While quinoa cooks, spread flaked coconut in a single layer on a baking sheet. Bake at 400° for 5 minutes or until golden brown. Cool slightly.
Place about 1/2 cup of quinoa mixture in each of the 4 bowls. Top each serving with 1/4 cup strawberry slices, 1/4 cup banana slices, and 1 tablespoon toasted coconut. Serve warm.
Pro Tip: Quinoa is a high-protein grain, so it makes a great all-in-one breakfast this Mother's Day.
Nutrition Facts: Calories: 218, Total Fat: 9g (6g sat fat), Carbohydrates: 32g, Protein: 4g
Menu Tips for a Healthier Brunch Out
If you're looking forward to a special meal out at a restaurant this Mother's Day, keep the following tips in mind to help yourself make healthier brunch choices:
1. Use skim milk for your coffee (or tea), and limit sugar
If you order something to drink and like to add milk, ask for skim milk instead of using the cream on the table. Also, eliminate or limit the sugar you add to your hot drinks.
Making these small changes in your morning habits can save hundreds of calories over the course of your weight loss journey (and beyond!).
2. Choose lean meats
Favor chicken or turkey breast or fish if you're picking meats for an omelet or sandwich.
Lean/natural ham is also a good protein source, unlike sausage or bacon. Lean meats have less total fat, saturated fat, and calories than their fattier counterparts.
3. Ask for egg whites, if possible
Lots of brunch dishes include eggs! If the restaurant allows it, order your dish to be made with egg whites instead of whole eggs.
Egg whites have all the protein of whole eggs but only a fraction of the fat, cholesterol, and calories.
4. Go for whole-grain/whole-wheat toast
When choosing a side of toast or bread for a sandwich, ask for whole-grain or whole-wheat bread.
The extra fiber has many benefits for your body, including keeping you full longer to promote weight loss!
5. If the portion is huge, take half home
One of the hardest parts of eating out is portion control. If the portion looks like way more than you need to eat (or would eat at home), take half home and have it for leftovers.
Are you trying one of these recipes this Mother's Day? Let us know if you have any questions or suggestions by leaving a comment below!