Best Fast Food Options for Weight Loss
We all know that eating at home or sitting down for a well-balanced meal is the best option when you're trying to watch what you eat and lose weight.
Unfortunately, finding the time to cook or sit down for a meal isn't always an option. With our hectic lives and on-the-go lifestyles, sometimes fast food really is the only choice for a meal.
So, what are some healthy fast food options for weight loss? Here we'll talk about the best fast food to eat on a diet and how to make any drive-thru order healthier!
Diet-Friendly Fast Food Options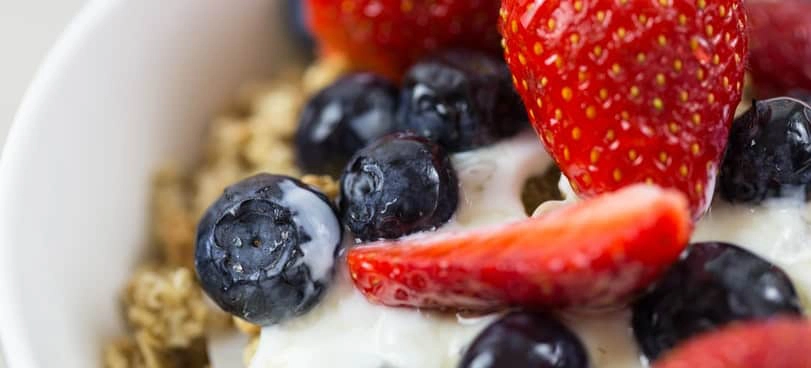 Have a road trip, vacation, work trip, or kids' day coming up? If you think your upcoming adventure will involve at least one stop for fast food, plan ahead by reading through these healthier fast food menu items.
Fast food shouldn't be your everyday go-to, but the occasional trip through the drive-thru also shouldn't completely derail your weight loss journey.
So, next time you find yourself in need of a quick meal, hunt for one of these diet-friendly fast food options!
Breakfast: Best Fast Food Options
You ran out of the house, but you forgot to grab your usual yogurt or meal replacement shake. What's the best breakfast to grab on the go? Here are a couple of diet-friendly fast-food options for breakfast:
1. McDonald's Egg White Delight McMuffin
This classic breakfast sandwich is a great source of protein and stays within the acceptable range of calories, fat, and carbs. With a respectable 18g of protein, 29g of carbs and 280 calories, and only 10g of fat, this sandwich gives you the fuel you need to keep going without blowing your diet!
If you stop by McDonald's and they don't have this sandwich, go for a regular Egg McMuffin or the Fruit & Yogurt Parfait.
Steer clear of the biscuit sandwiches, McGriddles, and breakfast platters.
2. Chick-fil-A Greek Yogurt Parfait
Greek yogurt is a popular breakfast for weight loss because it's filling, high in protein, and easy to transport. Chick-fil-A jumped on the wagon, and they now offer a Greek Yogurt Parfait for breakfast.
This meal has well-balanced 230 calories, 12g of protein, 28g of carbs, and 9g of fat. It is a little high in sugar (at 21g per serving) since it's made with vanilla Greek yogurt instead of plain, but overall the parfait is still a good choice if you're driving past Chick-fil-A!
If you'd rather have a hot breakfast, grab an Egg White Grill sandwich.
Avoid the biscuit sandwiches, especially the Sausage, Egg & Cheese Biscuit that has 600 calories, 40g of fat, and over 1500mg of sodium per serving!
3. Starbucks Spinach, Feta & Cage Free Egg White Breakfast Wrap
Starbucks is known for its coffee drinks, but they sell food too, and some of its breakfast options are actually pretty healthy! If you have a morning meeting, but you're not drinking coffee, opt for a light breakfast instead.
The Starbucks Spinach, Feta & Cage Free Egg White Breakfast Wrap has 290 calories, 19g of protein, 33g of carbs (6g of fiber!), and 10g of fat. Still, don't make this veggie wrap your everyday breakfast because, like most fast food meals, it's relatively high in sodium at 830mg per wrap.
If you're not in the mood for eggs, go for oatmeal. The classic oatmeal and hearty blueberry oatmeal are both respectable choices, but they're not too high in protein.
If you need something to tide you over a bit more, pair the oatmeal with sugar-free steamed skim milk or some mixed nuts.
Skip the pastries and sugary drinks at Starbucks. They're high in sugar, fat, and empty calories.
Made it through breakfast on schedule but didn't quite get around to packing lunch? Or running between events and trying to grab dinner on the road? Don't let the decision of what to eat add to your stress!
Here are four popular fast food options for lunch or dinner that won't break the bank or blow your diet.
Lunch or Dinner: Best Fast Food Options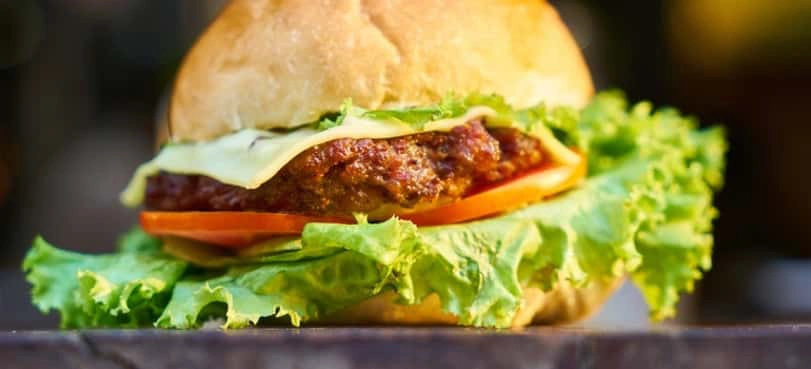 1. Jimmy John's Turkey Tom Unwich®
Craving a sandwich? Head to Jimmy John's and grab a Turkey Tom (#4) Unwich®. This chain offers the awesome option of wrapping your favorite sandwich makings in lettuce instead of bread.
If you're on the hunt for healthy, low-carb fast food options: this one is for you. A Turkey Tom provides a traditional combination of turkey, lettuce, tomato, and mayo and rings in at 230 calories, 18g of fat, 4g of carbs, and 14g of protein.
You can further cut calories and fat by asking for "EZ mayo."
Deli meats are traditionally high in sodium, and the meats at Jimmy John's are no exception. As a result, navigating the sandwich chain's menu for a healthy option isn't as challenging in terms of calories or fat but instead tricky in terms of sodium content.
The #4 Unwich® is a relatively-good option with 680mg sodium per serving.
Unfortunately, most of the Favorites menu sandwiches are too high in sodium to be considered healthy and should generally be avoided.
The Big Italian (#9) on white, for example, has almost 2900mg of sodium per serving! That's more sodium in one sandwich than you're supposed to eat in a whole day.
2. Wendy's Baked Potato and Chili
As the weather gets colder, a cup of hearty chili and a freshly baked potato to warm you up grows more and more appealing.
If you're passing by a Wendy's, pull in for a small chili and baked potato with sour cream & chives. The chili has 170 calories, 5g of fat, 16g of carbs, and 15g of protein, while the potato gives you 310 calories, 2.5g of fat, 63g of carbs, and 8g of protein.
This brings the pair's total up to a filling 480 calories, 7.5g of fat, 79g of carbs, and 23g of protein. Plus, thanks to the beans in the chili and the skin of the baked potato, this combo has 11g of healthy & filling fiber in just one meal!
Craving a burger instead? Hamburgers get a bad reputation for being unhealthy since many of them are loaded with calories, fat, and sodium, but a plain hamburger proves a relatively-healthy fast food option at various restaurants.
At Wendy's, for instance, a Jr. Hamburger has just 250 calories.
3. Panera Bread Strawberry & Poppyseed Chicken Salad
Panera is usually good about displaying their nutrition information on their menus, so it's easier to make a healthy choice at this chain.
However, if you'd rather not think about it, just order a whole Strawberry & Poppyseed Chicken Salad with the dressing on the side.
This yummy fruit and chicken salad has 340 calories, 13g of fat, 31g of carbs, and 29g of protein. It's also one of the lower-sodium items on the menu (and on this list!) at just 280mg per serving. The downside of this fast food option is the relatively-high sugar content (20g).
Still, asking for the dressing on the side and using it only as needed should reduce your sugar intake considerably! To make the meal even healthier, ask for an apple as your side to get in another serving of fruit instead of bread or potato chips.
4. Chick-fil-A Grilled Nuggets (8-count)
A box of Chick-fil-A Grilled Nuggets is a great option if you're craving a protein-packed meal that's low in carbs and fat.
An eight-pack of these unbreaded nuggets has just 140 calories, 3.5g of fat, 2g of carbs, and a whopping 25g of protein! This order is another great healthy, low-carb fast food option.
Still, 140 calories isn't enough for an entire lunch or dinner. Complete your meal by adding low-fat milk (90 calories, 7g protein) and a side dish. The Superfood Side (150 cals), Side Salad (160 cals), or Greek Yogurt Parfait (230 cals) are all great choices for your add-on!
The Market Salad is another good option if you're craving something green. This summery salad has 330 calories, 15g of fat, 25g of carbs, and 27g of protein. Pair it with a low-fat milk or fruit cup for a little something extra.
If you're really craving a sandwich, go for the Grilled Chicken Sandwich. It's great on macros (310 calories, 29g protein) but a little high in sodium. If you choose this sandwich for lunch, watch the salt in your other meals and snacks today.
How to Make Your Fast Food Options Healthier
Use these tips to make any drive-thru order healthier!
1. Order a Kid's Meal
Portion control is one of the most complex parts of ordering fast food, especially if you want a little bit of everything. If you'd rather have a little bit of everything instead of skipping a side or drink, order a kid's meal with diet soda or unsweetened tea.
If the restaurant is strict about age restrictions, go for the smallest main, smallest side, and smallest drink to keep calories in check.
2. Sub Fruit for Fries
The easiest way to quickly and simply save hundreds of calories is by swapping fries out for fruit or a side salad.
At McDonald's, for example, a small order of fries has around 250 calories. Apple slices or a side salad, on the other hand, have just 15 calories each per serving. That's an impressive improvement before you even consider the fat savings!
Other restaurants offer similar options. Instead of French fries, choose a fruit cup, side salad, or yogurt as your side.
3. Go for Grilled
It seems obvious, but it's still worth mentioning: grilled food has fewer calories than breaded, fried food.
While grilling or roasting allows the fat to drip off and makes foods leaner, cooking the same items in oil (frying them) only adds extra calories and fat.
So, choose grilled or baked instead of fried when you have the option. Commons swaps include:
Grilled chicken for fried chicken
Baked potato for French fries
Grilled fish for fish sticks/fried fish
4. Take It Easy on Toppings
Toppings like cheese, special sauce, mayo, and creamy salad dressings (ranch, blue cheese, etc.) add dozens of extra calories to your sandwich, salad, or dippers.
So, another easy way to make and fast food option healthier is to order it without cheese and with sauce on the side.
This works for all dishes, from salads to burrito bowls to burgers to dippables!
5. Sip on Water
Shakes, soda, and lemonades are common drink orders at fast food restaurants, but they all have hundreds of calories and tons of sugar. If you're trying hard to lose weight, opt for iced water or unsweetened iced tea instead.
By quickly saving these liquid calories, you have lots more wiggle room to enjoy your main course and stay in line with your weight loss goals! Plus, choosing water helps you stay on top of your hydration goals.
What's your go-to fast food option while on a diet? We'd love to hear your ideas and tips in the comments section below!