Don't Hibernate: 5 Ways to Winterize Your Workout
As the temperature begins to cool and the nights draw closer, we tend to switch to hibernation mode, and all our best exercise and fitness intentions are forgotten in favor of nights spent on the couch keeping warm.
However, your weight loss journey and your health will suffer if you put exercise on hold while the weather is less inviting.
Here, we have some great get-moving strategies for those days when snuggling under the covers seems much more appealing than venturing outside for a run.
1. Don't Abandon Your Routine
The alarm goes off, and you just can't face getting out of a toasty warm bed to do your exercise this morning, but you really should make the effort to keep up your routine.
Otherwise, these bad choices will become bad habits.
The more you put off exercise in favor of time in bed, the worse it will be – you don't want the scales to start creeping back up again after all your hard work throughout the summer!
Plus, exercise will help you feel more energetic, help you sleep better, and regular exercise also lifts your mood and helps to get rid of those winter blues.
However, you may need to adjust your routine to the changes in temperature and light as fall turns into winter.
For example, if you're heading outside to exercise in colder weather, it's better to do it during the day when it's light and a little warmer.
If there's no way for you to change when you can exercise, ensure you're warm and safe when you head out by wearing layers and reflective clothing, and if you ride a bike, you should check your lights.
2. Take it Inside
Alternatively, you might just want to avoid going outside altogether; if the weather does get bad, the gym is a great choice for more exercise options.
Many people hate moving their morning run indoors, but the gym doesn't have to be boring.
While a 30-minute bike ride to nowhere or running on a treadmill opposite a wall may not be very inspiring, a little creativity can make your workouts more fun.
A great idea is to develop your own circuit by alternating between a few different machines, incorporating a little weight training, cardio, and body conditioning work.
If you're not sure about how to use the machines or want an idea of a routine, all good gyms should have a personal trainer who can advise you on these things.
3. Try Something New
Another idea is to try group exercise classes, like spinning, aerobics, or kickboxing.
Not only will you burn calories, but you'll also have fun and get the chance to meet other people for support and to help keep you motivated.
It can be a bit daunting to start a new class, but there are beginners every time, so the instructors will make you feel welcome and included.
Rather than being an excuse to forgo your exercise routine, this time of year can be a great time to start something new.
Gyms are great for trying out a new activity, and you might end up finding an activity that you love to do.
Exercise classes are generally free as part of your membership, so take the opportunity to test out a Zumba class or maybe even a pole dancing class if you're feeling adventurous!
Heading for the swimming pool is another great idea if it's wintry outside, as you'll be reminded that you won't be in bulky clothes forever and that when the sun does finally come out, we'll want our bodies to be looking and feeling great.
Or, you could really embrace the cold weather and maybe even try out some winter sports, like skiing or ice skating if you live in a particularly snowy climate.
4. Be Creative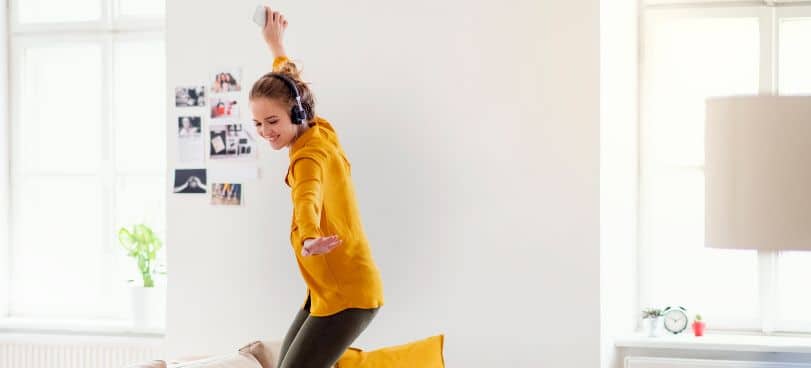 If paying out for a gym membership isn't an option, and the weather isn't good enough for a stroll through the park, a great tip is to walk the mall.
Leave your wallet at home and use the length of the mall as an indoor track, but remember to keep up the tempo to really feel the benefit.
If you prefer to work out at home, visit your local library and check out a few exercise DVDs, look at online video sites for a fitness routine or a dance routine you can copy, or try a fitness-challenge computer game with your kids.
Resistance bands are a good, cost-effective way to do a little weight training at home without having to buy lots of bulky weights or need any machines.
Or if it's torrential rain outside or you're snowed in without equipment, bottles of water or tins can be used as weights, and exercises like push-ups, sit-ups, and planking can be done without the need for anything more than your body.
Just turn on the lights, put some upbeat music on and forget about the terrible weather outside.
5. Everything Counts
From vacuuming to shoveling snow, remember that many activities count towards your fitness level, help you burn calories, and therefore get you closer to your goal weight.
Even if you don't have a workout planned, don't forget the all-important non-exercise activity, as it's a big factor in the number of calories you burn every day
Another great tip is to get a pedometer and have a daily step goal.
Every 2,000 steps burn roughly 100 more calories, so aim for 10,000 steps each day for ultimate weight loss; just don't forget your boots if you do venture outside to build up your step count.
When it's cold outside, there's no need to give up and hit the couch; with a little planning and creativity, you can step up to the challenges of winter exercise and maintain your healthy lifestyle.
So, your weight loss journey doesn't have to suffer now that you have some great strategies for how to keep up your workout momentum as the weather begins to change.
How do you keep fit in winter? We'd love to hear from you if you have any great ideas for how to winterize your workout!