Top 5 Fitness Trends for 2018
The new year is here. Ready or not, 2018 has come and it's another year and another day to jump on the latest fitness bandwagon. The American College of Sports Medicine (ACSM) recently released their annual report on fitness trends for the coming year, so here's our summary of the experts' comments!
The Study
First and foremost: a little about how the authors got this data.
Each year, the ACSM sends an electronic survey to a large database of global fitness professionals to predict upcoming health and fitness trends. This year, they received responses from over 4,000 trainers, coaches and other professionals in 41 countries across the globe.
The survey is clear to target fitness trends as opposed to fitness fads. What's the difference? Trends are long term tendencies or changes in people's behavior or attitudes towards fitness. For example, an increased interest in yoga may emerge as a popular trend. Fads, however, are workouts or classes that grow extremely popular for a short period of time and then peter out soon thereafter. For reference, the Shake Weight® was a brief fitness fad a few years back.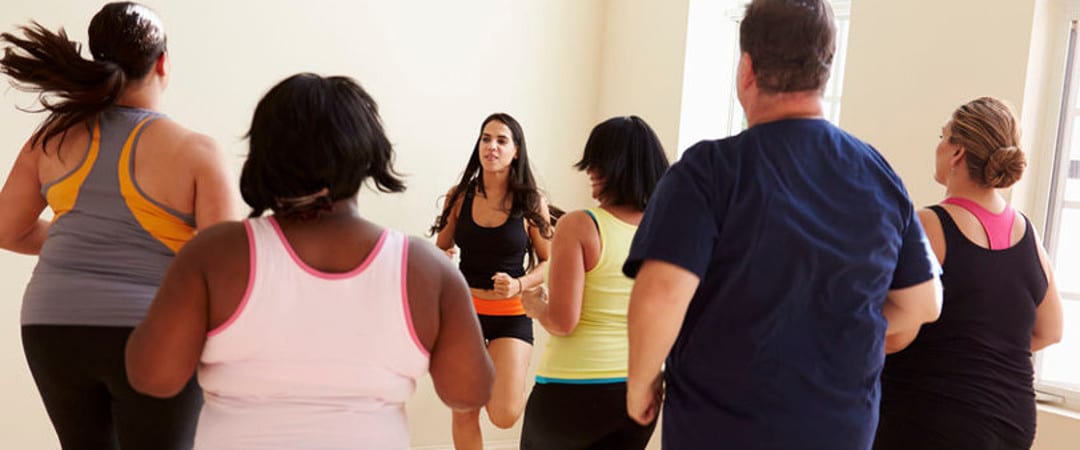 Top Fitness Trends 2018
Unsurprisingly, predicted fitness trends for 2018 seem to fall in-line with trends of recent years. However, some workouts have increased in popularity while others have grown less popular.
Here's the top 5 fitness trends for 2018:
1. HIIT
High Intensity Interval Training (HIIT) is the #1 predicted fitness trend for 2018. This type of workout is characterized by short bursts of intense activity, followed by brief periods of rest and recovery. Beginners typically rest more and/or complete lower intensity intervals than more experienced exercisers, making HIIT accessible and effective for athletes of all levels. Moreover, sessions usually last for 30 minutes or less, making them widely popular in our ever-busier world. Overall, both experts and exercisers sing their praises for this calorie-torching workout earning  the top spot on this year's list.
2. Group Training
Group training, also called group fitness, refers to any workout that involves someone instructing or leading a group of five or more people in a class setting. These workouts range from step aerobics to Zumba to TRX. With the support of (and often competition against) other classmates, group training helps individuals achieve their fitness goals in a fun setting. Many exercisers also comment that the camaraderie of group fitness helps them stay motivated to continue their workout routines. For all of these reasons, group training came in at a strong #2 for fitness trends of 2018.
3. Wearable Technology
You or someone you know almost certainly owns some sort of fitness tracker. From Apple Watches to Fitbits to Jawbones, wearable technology has surged in popularity in recent years. These "wearables" track steps, heart rate, sleep, calories burned and more. Most are also compatible with apps wherein the user can track intake and compete with friends. In ACSM's survey, experts predict the popularity of these gadgets will only continue to grow. And the technology industry agrees. Trendy wearables now include the traditional bracelets plus smart glasses, responsive clothing and heart rate monitoring rings.
4. Body Weight Training
Body weight training has been around for centuries, but it only emerged as a popular trend in gyms and fitness clubs in the past few years. Push-ups, lunges, squats and pull-ups are all popular body weight exercises. This type of training is popular because it's free and easy to do anywhere with little or no equipment. For people who aren't interesting in going to a gym or health club, this is a great way to build strength and fitness.
5. Strength Training
Ever-popular strength training remained in the top five fitness trends for 2018, but its position has dropped as compared to previous years. Weight training is popular both for building muscle and adding or maintaining strength. People of all ages and fitness abilities are increasingly incorporating weight training to further overall health and ability. More and more instructors are also adding weights to their classes in an effort to make weight-training an activity for all demographics.
Yoga, personal trainers, classes for older adults and functional fitness also made the top 10. The other trend in the top ten was not a type of workout, but instead a trend in education of the individuals teaching these workouts. The #6 most-predicted trend of 2018 was an increase in accreditation and training for fitness professionals. This is an encouraging shift towards ensuring expert knowledge and standardized accreditation to support quality in fitness instruction.
Many experts also note that fitness is growing into an increasingly mainstream lifestyle, as opposed to the obsession of a dedicated few. In a time when nearly 2 out of 3 American adults are overweight or obese, this is wonderfully encouraging news. The more we can incorporate fitness and sport into our everyday lives, the healthier we will become as a country.
What do you think? Are you doing any of these workouts in 2018? Or do you know of another up-and-coming trend that the ACSM may have missed? Let us know in the comments section below!