Best Weight Loss Affiliate Programs for 2022
There are hundreds of weight loss affiliate programs online, but not all sites are created equal. If you're an internet marketer or wellness influencer who wants to make money selling weight loss products, it's worthwhile to do your research and find a weight loss affiliate program that will prove truly profitable!
We've done a bit of searching ourselves and discovered these six fantastic programs. The websites below sell everything from fitness certifications to healthy meals to dietary supplements, so you can pick the product that best suits your audience. Depending on the company, you may either get paid to try weight loss products (yay free weight loss products!), earn a commission for generating sales or enjoy a combination of the two benefits.
Check out the weight loss affiliate programs below and start earning money today!
National Academy of Sports Medicine
🛒 Product type: Fitness Certifications
💰 Commission: $25 per sale
⏰ Payout Frequency: Monthly
The National Academy of Sports Medicine (NASM) is an international leader in fitness certification. They offer programs that certify students in personal training (CPT), as well as advanced certifications like Performance Enhancement Specialist (PES) and Corrective Exercise Specialist (CES). They have been in operation for over 30 years and boast that all certification programs are science-based and well-respected in the fitness industry.
This is an exceptional weight loss affiliate program because it positions you to offer readers and followers an opportunity to further their fitness knowledge and earn a valuable certification. NASM pays partners $25 per sale, provides dynamic banners and gives you credit for all sales generated within 30 days of your referral. The program is run through CJ Publisher.
Phen.com
🛒 Product type: Dietary Supplements
💰 Commission: 40% + additional commission for high earners
⏰ Payout Frequency: Monthly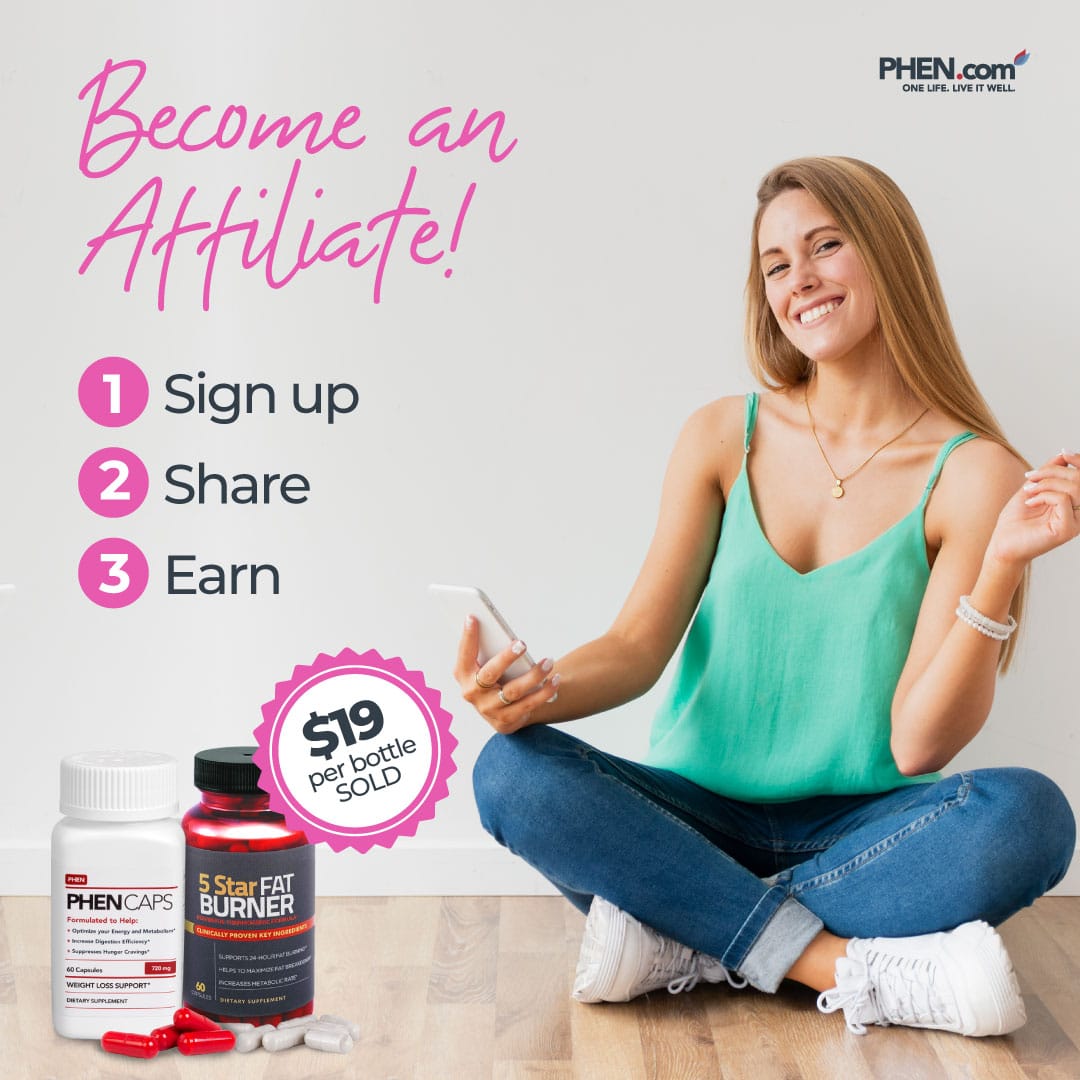 Phen.com sells two weight loss supplements: Phen Caps and 5 Star Fat Burner, plus a combo pack of the two products. All of their products are made in America and come with the 30-day satisfaction guarantee. These natural supplements are ideal for people interested healthy weight loss who want a little extra help controlling cravings or losing stubborn fat.
Phen.com offers a direct affiliate program that pays 40% commission on all sales generated through your referral. That translates to over $30 on the average order! We also love this weight loss affiliate program because, in addition to the site's competitive commission rate, Phen.com cookies last for an impressive 120 days. That means that anyone who makes a purchase within four months of clicking on your link will generate commission for you. This program also offers a library of pre-made marketing materials and quick, helpful customer service agents, which help make it one of our favorite weight loss affiliate programs.
Hello Fresh
🛒 Product type: Meal Subscription Service
💰 Commission: $10 per new customer + bonuses
⏰ Payout Frequency: Monthly
Hello Fresh is a meal subscription service that delivers boxes of fresh ingredients and easy-to-follow recipes straight to your door. It stands out from other meal subscription services for its affordability (at under $7.50 per meal), flexibility and generous portions of protein.
The Hello Fresh affiliate program is a great money-making opportunity because you earn $10 on the first sale of any customer you refer, plus performance incentives and bonuses. Cookies only last for two weeks, but it's a product with wide-appeal that promotes healthy habits like cooking at home, choosing whole foods and meal prep. You can join this weight loss affiliate program through CJ Publisher and Hello Fresh will provide additional logos, banners or other marketing materials upon request.
Meredith Magazine.Store
🛒 Product type: Health & Fitness Magazines
💰 Commission: 40% per subscription
⏰ Payout Frequency: Monthly
The Meredith Corporation is the number one entertainment news network in the US. They own People, Parents, Shape, InStyle, Health, Real Simple, Eating Well, Cooking Light and many other popular magazines. If your readers or followers enjoy reading magazines, the Meredith Corporation's affiliate program could be a great money-making opportunity.
This weight loss affiliate program is run through Magazine.Store and CJ Publisher. The company offers a wide variety of health, wellness and nutrition-related magazines and, when you sign-up for their affiliate program, you will receive 40% commission on any new subscription. The referral period (cookie duration) is 45 days, so you'll get credit for anyone that clicks on your link and subscribes within six weeks.
You can access the affiliate program by clicking on the link below, or by searching for "Meredith" in CJ.
eVitamins
🛒 Product type: Vitamins, Supplements, Groceries & Pet Care
💰 Commission: varies from 4-20% (depending on the product)
⏰ Payout Frequency: Monthly
eVitamins is an online vitamin and wellness shop that strives to provide customers with the freshest, best-quality supplements at the lowest prices. It was founded in 1999 and offers free shipping on over 16,500 items. The site also consults with a team of board-certified wellness professionals, so you know you'll be shopping the best supplements every time.
We like the eVitamins affiliate program because of the diversity of wellness-related products offered online and high commission rates. You can either join directly though the eAffiliate Network (eVitamins direct affiliate program) or via CJ Publisher, but the former pays significantly higher commissions. You'll earn 12-20% commission as a direct affiliate, but only 4-8% as a CJ affiliate. Both programs' cookies last for 60 days and neither requires an already-established website to get started.
Amazon Associates
🛒 Product type: Assorted
💰 Commission: 4.5% on health & personal care items (0-10% for other categories)
⏰ Payout Frequency: Monthly
Amazon is the largest online retailer in America. They sell millions of different products, ranging from electronics to home goods to clothes to food to personal care items, and mail them directly to your home. This retail giant had over $10 billion revenue in 2018.
Amazon Associates is the site's famous affiliate program. It makes a great weight loss affiliate program because you can earn commission on any type of wellness product related to your brand's purpose: fitness products, supplements, food or clothing. While Amazon Associates' 4.5% commission is not as high other companies', and cookies only last for 24 hours, the site offers an almost-unmatchable product offering that makes ultimate conversion more likely.
Do you want to try a weight loss affiliate program in 2020? Have you tried any of these or do you have any recommendations? Share your thoughts and ideas with us in the comments section below!